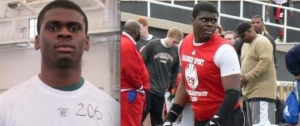 This much is clear: Syracuse just landed one of the biggest recruiting wins under Doug Marrone in Ron "Sugar Bear" Thompson, and Tyrone Wheatley is already paying enormous dividends. Monday, the 4-star tight end from Michigan chose the Orange primarily because of his relationship with T-Dub. In August The Fizz believed it was a two-horse race for Thompson, between SU and Maryland. There were a number of Big 10 schools that also offered scholarships to Sugar Bear, including Michigan, Illinois and Indiana.
Yes, nemesis Randy Edsall was back in the picture battling The Dougie for a "matchup nightmare" receiver. But Thompson gave his verbal to SU this week, although nothing is official until National Signing Day in February. While the recruiting services cannot be taken as gospel, and Marrone has continually played down the importance of rankings, landing Thompson is a coup.
Follow The Fizz on Twitter for the latest SU recruiting news
Four-star players have been elusive for SU. Marrone has been primarily limited to 2 and 3-star recruits, continually losing bigger fish to larger, more powerful programs. But Thompson becomes one of the first athletes brought in by DM with national cache. He's listed as the 8th best TE in the country by Scout.com.
The spotlight should be shared by Wheatley in this story. Since he has arrived on campus T-Dub has continually been mentioned by recruits and coaches The Fizz speaks to as a main reason kids are interested in Syracuse. In Thompson's case, it's not hard to imagine Wheatley being the deciding factor. T-Dub was also a prep star in the state of Michigan, and became a standout for the Wolverines. He connected with Sugar Bear immediately, and developed a strong bond. Thompson was originally going to commit to Michigan, but decided to wait to take a visit to CNY first. His high school coach:
"As soon as he went out there, honestly, that put Syracuse on his radar over Michigan. He sees it as a home-style atmosphere, and a place he can develop at."
How sweet is this victory for Wheatley and the Orange? Syracuse nabs a highly sought-after 4-star talent. Wheatley helps woo a player from his homestate, and away from his alma mater. Imagine Rob Konrad convincing a recruit from New York to go somewhere else? If Boom Perkins comes east as well, Wheatley will instantly garner national cred. A Sugar Bear in Orange, what could be sweeter?
Posted: D.A.
(adsbygoogle = window.adsbygoogle || []).push({});