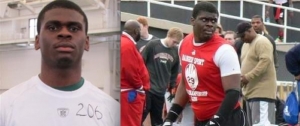 It appears Syracuse is now only battling Maryland for recruit Ron "Sugar Bear" Thompson, a tight end who could become an explosive pass-catching threat for the Orange. The 6'4″, 220 lb. target from¬†Southfield HS (MI) is also weighing offers from Indiana and Illinois.
Last month Thompson said the Orange, Terps and Wolverines were his top 3, but Michigan may be slipping since he recently noted his¬†contact with the school has quieted down. "I haven't talked to Michigan recently. I haven't talked to anyone recently but Maryland and Syracuse." Speculation in Ann Arbor is that his offer from the Wolverines has expired while he has been deciding. Thompson may wonder how he fits into their equation. Michigan already has two talented tight ends coming in for 'Äô12 in¬†A.J. Williams and Devin Funchess.
Follow The Fizz on Twitter for live Syracuse recruiting news
Ron has put SU high on his list for awhile, and had some encouraging words to ESPN. "I love the coaching staff at Syracuse. I feel like I can see myself there." It's incredible the Orange is once again battling nemesis Randy Edsall on the recruiting trail even though he left for the ACC this offseason.
Thompson jumped on the football recruiting scene after posting 41 receptions for 808 yards and 12 touchdowns last season as a junior at East Detroit HS. He transferred to Southfield for his senior season after a major coaching shakeup at his former school and Scout.com Midwest regional manager Allen Trieu thinks this can potentially give him more exposure.
'ÄúHe was not a marquee program, but I think that he has really stood out against good competition this offseason. You put on the tape and you'll see him excel against some good competition in the PSL also. He's a big kid at 6-4, 225 pounds and he has tremendous, tremendous ball skills. I think it will be quite a race between Thompson and (Aaron) Burbridge to see who has the best hands in the state. I think Ron Thompson is a kid that is going to continue to rise."
Thompson is a matchup nightmare. With his size and 4.6/40 speed. He looks like a man amongst boys out on the field, grabbing every pass thrown his way. Sugar Bear gets the ball at the highest point and seems to do it effortlessly.
Ron dominated at the Midwest Showcase (watch his video here) with the best prospects from the Big Ten region, hauling in passes from all directions and going up and over defensive backs to pull in those 50-50 balls.
His hands are incredibly soft and football people rave about Thompson's amazing ball skills. It's remarkable when you remember last season was the first time he played high school football. It's scary to think how good RT can be with a few years of experience under his belt. He has size and off the charts athleticism which makes his potential sky-high.
As a receiver, he has all the tools to be a dynamic playmaker immediately. Sources say Thompson's athleticism and hand-eye stood out as a cut above any other TE prospect during the summer. He might just have the best hands in this class. But to be a tight end at the next level, Ron needs to be quicker off the line of scrimmage and become a better blocker. He is still learning the game, and The Fizz believes that he can improve on those areas with more football experience.
On his nickname?
"It just started with a few of the guys here. It's all fun and games. I guess because I'm big and I can move, or something like that. It doesn't bother me. I'm just gonna go out and perform."
Getting Thompson to the Dome next season would be a huge addition. The Orange loses two tight ends in Nick Provo and David Stevens to graduation. Besides Beckett Wales, no other TE has any experience catching passes in college games. Interestingly, Doug Marrone switched DE/DT Max Beaulieu to tight end this week. Adding Thompson's big frame to the offense would give SU a red zone threat as well as a tight end that is a playmaker.
Sugar Bear is the real deal and one of the big fish Orange Nation has been waiting for. Prying him away from Wolverine country could be one of the biggest recruiting wins since Marrone took over.
Posted: Dave Van Moffaert
(adsbygoogle = window.adsbygoogle || []).push({});