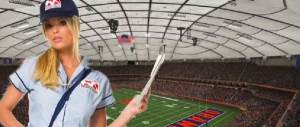 A transitional week of Fizz comes to a close with the focus shifting off Chad Kelly to what's next for the SU recruiting class of 2012. The big target is Jarron Jones, the 6'7", 300 lb. monster of a defensive tackle out of Rochester. The Fizz talked to his coach this week, but first the last little bit on Clemson-bound Chad Kelly.
"Hoffman says SU's football atmosphere not matching Clemson'Äôs. It won'Äôt ever be Death Valley, but it can be great. Look at Orange hoops recruiting. They bring in prep stars when they bang out the Dome and it'Äôs Orange-d out. What 18-year-0ld wouldn'Äôt look at 33,000 crazies, a top ten matchup on national television, and say 'ÄúYeah, this could work.'Äù SU hoops doesn'Äôt hope to compete with the big boys; they are a big boy. I live outside Boston, and previously held BC season tickets for a few years. Didn'Äôt really root for the team, but the choices for big-time college football in NE is either BC or UConn. Anyways, BC has no great atmosphere 'Äì no northeastern school, save Army, does 'Äì but they have a program which hasn'Äôt had a losing season since 1998, averaging 8-9 wins. They'Äôve made a bunch of bowls, have OLs drafted in the first round of the draft, and, the key, they land the #25-#30 recruiting class every year. SU can surpass that level." – Kev
No doubt Syracuse can surpass Chestnut Hill Community College. A private Catholic school in a pro sports-enthralled town shouldn'Äôt be able to compete in a city where, if asked, the average citizen's favorite NFL team is the Syracuse Orange. The football crowds at the Dome last year were disappointing in both quality and quantity. The 'Äúloud house'Äù was never really loud and it was never remotely full. The fact that the team didn'Äôt beat anyone at home probably didn'Äôt help, but this team deserves better going into this year where they should be competing in the top half of the Big East standings (and before TCU comes in and destroys us all).
"Maybe Kelly didn'Äôt come here is that we are loaded pretty good at QB." – Mike
Have you seen John Kinder throw a football? In the words of Drew Rosenhaus – next question.
"When SU played exciting offensive schemes, they were able to recruit McNabb, Graves, Harrison, etc. Only way to get top flight talent to 2nd tier program is to give them opportunity to showcase their talents. I don'Äôt think we lose Kelly to a school like Clemson if he felt offense suited his skillset. You can sell defensive players as well when high powered offense gives those players a chance to make a real difference. Many of the programs that saw big turnarounds were the TCU'Äôs, Mizzou'Äôs, Ok St,etc 'Äì all programs with innovative offensive schemes. Coach DM is from a high powered NFL offense. He needs to bring that same type of innovation to SU in order to get talent." – AL
An interesting point in response to Big Steve's blueprint for Syracuse to start landing the bluechip recruits. There were definitely pleas for the Orange to open up the offense last year and finally did it in the Pinstripe Bowl when Marrone finally seemed to have confidence in Ryan Nassib. Between that win and a solid spring, expect to see a more high flying and exciting Orange offense this season.
"You're missing out on one thing, let'Äôs call it step 5. When a recruit comes on campus, they are introduced to a player and they hang out with that player. when they go to clemson/auburn they are introduced to a girl." – mdb80
Have you seen a Syracuse girl from October to April? They look like bleeping eskimos! "Hi! Welcome to the frozen tundra! Want to play here?" No. Bad idea. Marrone is selling the family atmosphere. The players can take them to parties and meet girls (inside, sans jackets, beanies, scarves and more jackets) as opposed to whoring out some "hostess." Strong way to put it? Maybe. But what else would you call it?
Enough of Kelly as we shift our focus to Jarron Jones. Apparently this needs to come with a warning.
@orangedan09: @orangefizz Please stop getting my hopes up with recruiting my little orange heart can't take anymore bad news.
Anyone who would like to give Dan a hug is more than welcome to tweet him and set up a time and place to meet to exchange pleasantries. Note: Orange Fizz is not responsible for any interaction between Fizz readers. This includes awkward hugs with strangers. Orange Fizz also does not encourage meeting up to hug strangers unless it is at a bar and there are touchdown passes involved. End of note.
Jones took up two days of Fizz this week as we prepped everybody and then talked to his coach. The results were a distinct before and after. Before:
"Well i think u can count out OSU and UNC. I bet he ends up at ND." – Carlton
"No way he doesnt go to Penn St. All rumors about him not going there, he wants to play in a bigtime school. SU is not a bigtime program anymore "- M&M
"Right now HCDM can'Äôt land a 3 star kid from Albany. Jones is the cream of the crop. I still wonder about the talent level he plays against up there in Rochester. He'Äôs not coming here. Just go to Penn St and you'Äôll see the difference. My in-laws are PS grads and it sucks. Great atmosphere!! Great tailgating!! Hugh place and loud!! And many others. Only draw back is its in the middle of nowhere 'cornville' I call it. No comparison to SYRACUSE at all. And you wonder why kids go else where. Lets build the program facilities and not worry about what the Dome will be called. We are always backwards." – Terry
"I wish we had a chance at him but we don'Äôt. To many big time offers to go to Syracuse." – Chris
What a sorry bunch of depressed Oranges. My goodness. Should I just jump out my 3rd floor window now? After we talked to Aquinas Institute coach Chris Battaglia?
"It will be a long wait until January as the Cuse holds it'Äôs breath for JJ'Äôs decision. His brother committed to the Cuse 4 years ago,but never attended due to grades. He is the type player, an UPstate NY kid, that Syracuse needs to turn this program around. There is NO other program that he is considering, that can provide him with the opportunity to establish a Carmello Anothony type legacy than Syracuse. If he comes to the Cuse, he will be the face of program not only for the years he is on campus, but for years to follow in the NFL and he would be an inspiration for young men in UPstate long after his playing days at the Cuse have ended. Go Cuse- Jarron- Go Cuse" – Dr. Bill
"Scout.com has him as having High Interest in us and North Carolina as well as his soft verbal to Penn State obviously. If he'Äôs probably not going to Penn State and with the mess at UNC, one has to love our chances." -Cuse1CT
Battaglia seemed to think 'Cuse has a great chance. SU should make his initial cut list to 5 and from there it'Äôs game on. He seems to be a different kind of kid who is inspired by more than the big time. Ishaq and Kelly both want to be stars and there'Äôs nothing wrong with that. Jones still is concerned about being switched to offensive tackle, so a big time school might scare him a little bit in that regard. As for a recruit already in the bag for SU, DE James Washington from Winter Park, FL:
"This is definitely a nice get as James is larger than the majority of LB'Äôs we'Äôve brought in to date. The enjoyment of the signing however was considerably muted by Rutgers signing of Chris Muller. Who would have ever have imagined that Rutgers would out recruit Syracuse. I seriously don'Äôt understand how bat sh#t crazy Schiano does it. I mean we missed out on Quentin Gause who'Äôs priority was to attend a school with a good broadcast journalism background. Oh wait, that'Äôs right I suppose it has to do with the fact that Tom Cruise'Äôs locker room in, 'All the right moves' was more refined than the current digs Syracuse is forced to operate in. Geez, I almost forgot, let'Äôs also give some credit where credit is due to Greg Robinson for setting the program back a decade or so." – Jesse
Wow, Jesse – such anger. Such an innocent start and such venom to the finish. Schiano is a salesman and he'Äôs damn good at it. Have you ever been to New Jersey? How do you sell that?! He does. Respect where respect is due. As for Groobers, I've spoken to players who just were unable to get on board with Robinson and chose Rutgers or other places even if Syracuse as a school intrigued them more.
Another recruit on the SU hot list is George Morris, a running back out of Gwinett, GA, whom is being recruited heavily by Tyrone Wheatley.
"Hey, we have to sign this kid'Ķ. he looks great on film. more impressed with the way he catches the ball 'Ķ he looks to have good speed and is strong. At 6-1, 195, that is good size for a back. I like the presence that SU is creating in Georgia. Greg Atkins has connections there from his SEC days and Wheatley sounds like he is a top notch recruiter." -Dr. Bill

"This kid looks legit. The way he accelerates is impressive and having a back that can catch would really help spread the field and keep the D off balance. He would definitely be a good get and the tradition at running back at 'Äòcuse speaks for itself, I'Äôd say." – Derek
Wheatley'Äôs name seems to be in every big recruit the Orange has been in on over the past few months outside of Kelly. Morris, Jones, and David Perkins have all talked about how great Wheatley has been. No doubt he's responsible for landing the Orange a major recruit in the next few years, if not sooner.
The comments came hard and heavy this week and we're not done with them yet! Starting this week, the Fizz Inbox is officially a part of the FizzCast, meaning your comments get answered directly on our esteemed podcast. Continue sending your thoughts to us on Twitter @OrangeFizz and commenting below all of our posts.
Posted: Craig Hoffman
(adsbygoogle = window.adsbygoogle || []).push({});