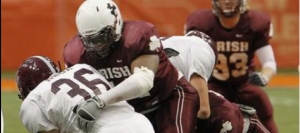 Jarron Jones. By now Syracuse fans have heard the name and those that have done their homework understand the hype. The mammoth DT has offers from SU, North Carolina, Notre Dame, Ohio State, and has given a soft verbal to Penn State (although all signs point to him going elsewhere). At 6'5", 295 lbs, calling him a manchild is an understatement. As a junior, Jones had 68 tackles, 14 tackles for loss, 10 sacks, an interception and a fumble recovery for a touchdown.
All those numbers are nice, but you have to see him to understand what kind of athlete we'Äôre dealing with. Despite his mammoth size, he's incredibly fluid as you could probably guess from the interception and touchdown he got as an interior lineman.
The kid is a freak. The question, though, with elite high school kids is what happens when you put them against an equal level of competition. This is magnified even more for someone Jones'Äôs size. Is he dominating because he's simply bigger than everyone? If only we had some video of him battling other 5-Star talent…
Wowzers. Five different lineman. Zero shot. Imagine Jones eating up double teams leaving¬†Chan Jones matched up against some poor tackle one-on-one, as the quarterback craps his pants under center. Now envision Chandler dancing to LMFAO'Äôs 'ÄúShots'Äù but instead yelling 'ÄúSacks! Sacks! Sacks!" Alright, you can stop drooling.
The kid is a difference maker and if SU lands him it he fills the void Chad Kelly and Ishaq Williams left. A New York kid who stayed in-state and has the chance to be be the focal point of the Orange. He would be a trend setter in SU recruiting. I know, I know. You've heard this one before Syracuse fans. But the buzz is Jones just might be different.
Stay tuned tomorrow as The Fizz talks to Jones's coach. If you have any questions for Coach Battaglia, tweet us @orangefizz or comment below and your question could make the cut.
Posted: Craig Hoffman
(adsbygoogle = window.adsbygoogle || []).push({});