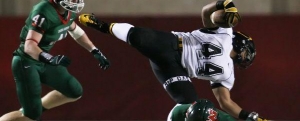 With a run-first offense and the loss of Adam Harris, how valuable would a 5'10", 245 lb. bruising fullback be to the Syracuse attack? E.J. Fatu (Spring, TX) had offers from SU, Michigan, Utah and Arizona State when The Fizz last profiled him back in September. But it looks like one of the best FBs in the nation might be off the radar this winter.
Fatu is dealing with unfortunate family circumstances and played in only four games for Klein Oak High School this fall before transferring to another school in the district. His coach David Smith is respecting the privacy of the details, but says it was a death in the family that E.J. took hard. Fatu played with a leg band that read "R.I.P Dad" (pictured above). Smith has said the circumstances have been difficult for everyone involved and influenced Fatu's move. He also stressed how strong Fatu's character has been through all this.
Fatu's situation is unclear with three weeks to go before National Signing Day. Schools backed off Fatu after his abbreviated season, and the question may also be whether E.J. is ready personally to play again. The Orange traveled to Texas to recruit Fatu in the summer and offered him then. Fatu was originally getting attention from a handful of BCS schools, and the Orange have the potential to get involved again. 
Smith told The Fizz if the Orange comes back with renewed interest, Fatu will listen and consider an offer from Marrone. With newly opened scholarships SU does have the ability to take another look at E.J. The parallel is intriguing – could the Orange use Harris' scholarship to bring in his replacement?
Fatu showed his natural running ability at Nike Camps, and ran for over 1,000 yards in '10. His attitude and size are a good fit for a punishing ground game under Doug Marrone. As Syracuse finalizes its recruiting class over the next month, it may be worth reconnecting with Fatu. His talent is undeniable and Marrone's strong family atmosphere within the program might be the perfect landing spot for the fullback. This could be a relationship which helps both sides. The Fizz wishes the best to Fatu, and it helps bring into focus how many things are more important than football.
Posted: Alex Plavin
Eastbay has coupons available for Nike products.
(adsbygoogle = window.adsbygoogle || []).push({});