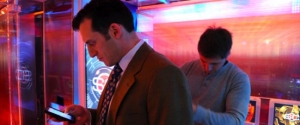 So our good friend Doug Gottlieb is at it again, huh? After Syracuse doled out another beatdown, this time at Villanova, the ESPN college basketball thinker is tweeting like he's torn on SU in his power rankings.
"Should I put Baylor 1? Resume is better—lot of talent–mulling"
He was asked by a follower, "does it just kill you putting Syracuse #1?" 
"Just hard cause schedule is not comp"
Which is actually downright hysterical since, as another follower pointed out, SU's strength of schedule AND its RPI are both tops in the nation.
"look at resumes, not close Baylor has way better scalps"
Not to be outdone, Gottlieb also took a swipe at the conference. A follower asked "Is SU this good or is the Big East this bad this year?"
"Both"
Yet, when it came to which team was better – Syracuse or Baylor – Doug came to his senses.
"Cuse is better in back court for sure"

"Cuse is better no doubt."
There is a dynamic on the internet called "trolling." Wikipedia states, "a troll is someone who posts inflammatory, messages in an online community, with the primary intent of provoking readers into an emotional response."
Urban Dictionary sums it up a little more colorfully: "Being a prick on the internet because you can." (Which is basically the idea behind most comment sections.)
Attention: Orange Nation. Doug Gottlieb is trolling us. Be made aware. Thank you. Sincerely, The Fizz. 
Look, I actually like Gottlieb. Mainstream college sports media is filled with fanboys and syncophants that refuse to acknowledge anything or anyone could be less than spectacular. Dick Vitale has been devaluing college basketball analysis for decades. So even though his SU haterade is tired, a dose of honest, critique-ridden insight from Gottleib and Jay Bilas is refreshing.
The fun part is there's not even a debate anymore about Syracuse. After yet another thrashing of an inferior foe, the Orange is the clear cut best team in the nation. There's no amount of Ken Pom number crunching that can lead you to any other evaluation. Baylor might like its chances, but even the Bears coaching staff would admit SU would be the heavy favorite in a neutral site game between the two tomorrow.
Watching this team makes me giddy. What's a term for being deeper than deep? Deep deep? Dreep? Steep? Forget K-Jo, or Dion, or Scoop. Let's go on the road to Philly, and watch James Southerland drop 15 on you. An incredible commitment to defense. An unselfish nature where the entire team loves when the next guy steps up. A window that will be open awhile with ultra-talented MCW & Rakeem Christmas playing mop up minutes. The Per'fesser with a reinforced steely eyed focus after the Fine Scandal.
Gottlieb knows he's Public Enemy #1 within Orange Nation. Imagine you were paid to be a college basketball analyst, had built a rep as a Georgetown hater, and the Hoyas were the nation's obvious top dawg. You'd find any reason to tweak G'town fans at every opportunity. By the end of his Twitter chat, Doug went from "Baylor has the  better resume, it's not even close" to the simple admission, "Syracuse is better, no doubt." I mean, he couldn't even make it 15 minutes without cracking.
He's just sitting in Bristol cackling at how much airspace and blog words are spent by SU fans lamenting how he doesn't give the Orange any respect (raising hand). He's not on the selection committee, he's not an opposing coach, he's only a talking head.
When Gottlieb starts trolling us, just remember to recite one word over and over.
Scoreboard.
Posted: D.A.
(adsbygoogle = window.adsbygoogle || []).push({});