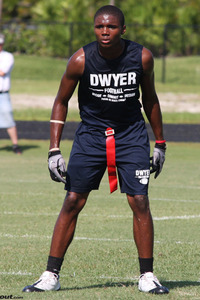 Julian Whigham is one of seven players from powerdul Dwyer High School (FL) to sign National Letters of Intent today. The speedy DB gave his verbal in the summer and didn't even visit Miami when the Canes offered him late.
He took his official to SU two weeks ago, and stayed at a hotel with his mom. No rooming with a player who ensures he gets to the best parties and sees all the sights. Just a nice relaxing time with Mom who, like Julian, fell in love with Syracuse.
"Syracuse had a great balance of athletics and academics and I felt like I had a great opportunity in the classroom and on the field to succeed. I didn't really see that in any other school so I knew Syracuse was a great fit for me."
Although he only played one game at corner in high school and had 9 INTs as a safety in one of the toughest leagues in the country, coaches told him he could be on the two-deep at corner next year. He says at the Orange's camps he played man-press and no one caught a ball on him. Sounds like the lack of games at corner doesn't mean a lack of skill.
Whigham is also a future Newhouse student. Right now he's headed for a magazine major and says a job like writing for Rolling Stone would be a pretty nice gig. This begs the question, what are some of his top albums to come out recently?
"Drake's Take Care, definitely. Young Jeezy РTM103 and Watch the Throne (Kanye West and Jay-Z) were great too."
We even had this year's "Shutang ain't nothin to mess with" moment when I brought up the possiblity of bumping the Jeezy album with Jay Bilas if he's in town for a game.
Whigham could easily be one of the bright spots in this class. He's played at an extraordinarily high level and says most of his practices were harder than his games because Dwyer is so loaded. Great practice habits will get him playing time in some form or fashion early and a future secondary of Whigham, Morgan, Reddish and Desir certainly sounds promising.
Posted: Craig Hoffman
(adsbygoogle = window.adsbygoogle || []).push({});