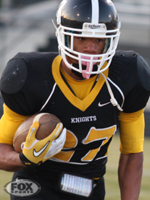 The Fizz has been on the trail of George Morris since the summer, and finally the Georgia product has made it official: he will play in the Dome next season. Morris was courted by some big  BCSschools such as Illinois and Vanderbilt, but ultimately ended up choosing Cuse because of the rapport he had with the coaching staff.
"It if weren't for the coaches who showed me that type of love that players need it wouldn't be as good. They just treat the players like family and that bond you feel like one of their own."
As what coach pushed George over the edge to come to the Hill? Look no further than Wheat the Beast.
 
"The relationship I have with Coach Wheatley is a close-knit bond. I can call him whenever I want to talk about anything, whatever is on my mind. It is like I am basically already up there and we have established that player/coach bond. I can talk to him about stuff football related, not football related, anything with him." 
Morris has a lot of ability and room to grow after only playing running back for two years. He believes his versatility makes him an effective runner. 
"I feel that I am an every down back. I feel that I can go between the tackles or beat you outside or line me up and motion me out and catch the ball. Whatever the coaching staff needs me to do I feel like I am that running back that can do it." 
Hopefully GM can continue the lineage of the great Orange running backs.
(adsbygoogle = window.adsbygoogle || []).push({});