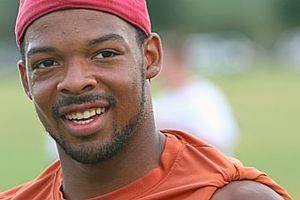 Winter Park High (FL) School's OLB James Washington committed this summer, and is the highest-rated (and only) LB recruit the Orange has laid claim to.  Washington represents yet another young, talented pass rusher who joins SU's most defensively heavy class in six years. It's been The Dougie's offseason mission to restock the D. The Florida native tells The Fizz his biggest strength is shooting the gap.
"I feel like I can just get to the quarterback and change the game. Change the game; that's the name of it, just changing the game."
He's right. To bounce back from last year, SU will certainly need to change its game, and Washington is ready to be part of that.  Washington racked up 14 sacks as a junior, and is poised to be another bullet in the young chamber of SU linebackers, joining the ranks of Dyshawn Davis and Marcus Spruill. 
Washington, with a list of close to 30 schools having offered him, is one of the most sought after recruits Marrone has landed. At 6'3″, 220 lbs, he's a little light for defensive end, but should fit in well as a linebacker. Plus, he's clearly got a great attitude.
"It's the best school in the country, so I decided to commit there."   
Posted: Jake Moskowitz
(adsbygoogle = window.adsbygoogle || []).push({});