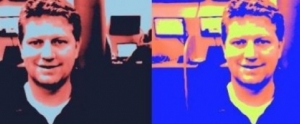 Greg Couch should've probably waited a day or so to spit out his nonsensical take about the NCAA avoiding the black eye of Syracuse in the Final Four. Because then he could've absorbed Kentucky and Kansas also cutting down the nets, stepped back and realized how ridiculous and short-sighted the opinion was.
Couch is good columnist, who has worked at both the Chicago Sun-Times and the Sporting News, and been widely recognized. This is not an arm-chair blogger throwing ill-informed grenades for some pageviews. That's why this piece is beneath him.
"For the most part, analysts, reporters and Boeheim'Äôs coaching buddies were praising him for his success through adversity, not noting that it was his mess.¬†Yes, the players, anyway, were impressive through it all. Give them that. But still, the NCAA did not need that mess as a focus at the Final Four."
The Fizz has recently discussed the old adage "you sleep with dogs, you get fleas." No Syracuse fan should feel sorry for the program because Fab Melo was ineligible. The Orange was responsible for a player who didn't take his academics seriously enough, and ultimately had to sit him.
But Couch believes Saturday night's outcome "Was the right finish, the feel-good finish. The NCAA saved face. Ohio State swept away the mess."
The idea that SU would somehow bring an unnecessary spectacle of scandal is undeniably absurd. Look around the Final Four, Greg. Every single program has been embroiled in some of the NCAA's biggest PR hits over the last decade.
We'll start with Kentucky, whose head coach has presided over two vacated Final Fours. Couch needed only to search back 18 months into his own website's archives to see a piece by his colleague Jeff Goodman, about UK's slimy recruitment of Enes Kanter.
"John Calipari knew exactly what he was getting into. The Kentucky coach chose to ignore the widespread industry speculation that Wildcats freshman center Enes Kanter had accepted payments in the sum of six figures from his former pro team in Turkey." 
That's from September '10. Boy, that Wildcats program comes dancing into New Orleans without any baggage, huh?
Just months earlier, the clean-cut Kansas Jayhawks program was uncovered to have been the center of a widespread ticket resale scandal. That of course, led to the bloodletting of an entire athletic department. No controversy to see here.
"A high-ranking member of the University of Kansas athletic department and the father of a prominent Jayhawks athlete allegedly made more than $800,000 in a ticket scalping operation that was orchestrated by college basketball power brokers David and Dana Pump."
It also wasn't long ago, Louisville head coach Slick Rick Pitino was testifying about his womanizing and philandering on the tables of Italian restaurants, dragging his family and school through the sordid court case. The Fizz has already highlighted how hypocritical the morally corrupt Pitino is, but it's worth reminding Mr. Couch.
"Pitino has presented the image of a dedicated family man. His children frequent Louisville's home games at Freedom Hall and he often speaks about his relationship with wife Joanne. 

Karen Sypher tried to extort $10 million from Pitino, and approached him in a restaurant six years ago and they had sex, the coach told police. Sypher says the sex happened after closing time at a table.

Two weeks later, the married father of five gave Karen Sypher $3,000 after she said she was going to have an abortion and didn't have health insurance, according to a summary of Pitino's July 12 statement to police."
This weekend should be about celebrating Pitino's career, though. And that brings us to Couch's favorite, squeaky clean Buckeyes. As he wrote, "What a day!" Anyone seem to remember the Jim O'Brien era? Yeah, the one that ended in disgrace just a few years ago and a wiping out of the '99 Final Four? What a day indeed!
"In April '04, O'ÄôBrien was forced to disclose the payment of $6,000 to reruit Aleksandar Radojevic.¬†AD Andy Geiger fired O'ÄôBrien for violation of NCAA rules. O'ÄôBrien filed a lawsuit against for wrongful termination and eventually wins a settlement of $2.2 million dollars.¬†The NCAA put severe limitations on any university that hired O'ÄôBrien until 2009. The NCAA also put Ohio State on probation for 3 years and required the university to remove the trip to the Final Four in 1999 from the record books."
No one in CNY is delusional enough to believe the SU program is without warts. You don't need to remind us, we were the ones that endured Bernie Fine, Fab's ineligibility, and the Yahoo! report. But let's also remember, Fine was never brought up on charges, and the drug report did not include any current players.
Couch loved the story of Aaron Craft's brother (and who doesn't support a member of the U.S. armed forces?), Jared Sullinger returning to school, and Thad Matta's health issues. But wouldn't the Final Four be a good platform to also discuss Dion Waiters' overnight maturity into a wonderfully coachable player? Or Scoop Jardine's growth from his own personal demons into a leader for the U.S. national team this summer? Or Brandon Triche taking over the family torch from his uncle Howard to play for Jim Boeheim?
Nah, those Syracuse guys are just dripping in controversy. It's too much of a distraction. The Orange is a publicity nightmare. Guess the only time the NCAA is really in a tough spot is when the scandals are of the current season.
Couch writes: "It's too simple to paint things so black and white, of course. But that's how sports are portrayed." 
I wonder how that happens?
Posted: D.A.
(adsbygoogle = window.adsbygoogle || []).push({});