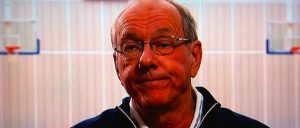 After a day to chew on the reality of Fab Melo being gone for the NCAA Tournament, it's time to start moving forward from the initial shock and anger. And what you find after all the emotion is a discouraging set of circumstances for the university, coach and program.
Let's start with the immediate future: Syracuse simply isn't as well prepared for the rigors of the Big Dance without Fab. Few teams have a 7-foot, athletic, shot-blocking, offense-altering center. In today's college game, that bounty of riches is rare. During the stretch of games Syracuse played without Melo, the defense wasn't nearly as stifling, and the offense seemed to stagnate as well. SU did go 2-1 in that span, but those wins came against now 6-seed Cincinnati and 10-seed West Virginia. The Orange will need to get through much better teams than those two to find New Orleans, and without Fab it's easy to envision this squad being knocked out in the Elite 8 by FSU or Ohio State. 
Which is a sin because this edition of the Orange was poised to deliver the goods on Jim Boeheim's fourth Final Four. Last year was supposed to be a reloading year after losing A.O. and Wes. Next year we knew SU would lose Scoop and K-Jo to graduation, and probably Fab and Dion to the NBA Draft. Meaning, this was the team to do it. And they were doing it. All season. While the program continues to deliver big time talent, finding a mix like this year's squad happens once in a generation. It's telling that of all the great squads Boeheim had in his 35 years on the Hill, '11-'12 was his best regular season record. This squad was special.
So you begin feeling for Boeheim, a cranky curmudgeon that most around the nation find easy to root against, but us in Orange Nation embrace. Yeah, he's salty, snarky, condescending, and patronizing. But he's ours. And Syracuse fans have embodied Boeheim's intense loyalty and protection of "his guys." The Per'fesser is our guy, an upstate New York product, who has orange in his veins, attended SU and never left.
But should we feel sympathy for Boeheim? The longer view suggests this program has had some major flaws in it for awhile now. And there's only one man the basketball office has ever answered to. Let's just hope by suspending Fab, SU has done enough to satisfy the NCAA. It would be another round of agita if the school was found to have knowingly played an ineligible player, and faced some type of punishment next season.
Most of us, including myself, tend to believe the Bernie Fine scandal was largely sensationalized by ESPN and a cadre of lying "victims," all looking for cash settlements or their 15 minutes of fame. But there clearly was something amiss with Fine, some strange relationship with Bobby Davis, some bizarre behind-the-curtain family life with his wife Laurie. And this was the second-lieutenant of the program for three decades.
Most of us, including myself, tend to believe the Yahoo! sports drug report was largely overblown because of the timing (eve of the Big East Tourney) and vagaries of how schools are supposed to police themselves without umbrella NCAA guidelines. But there seemed to be truth in the story. SU did not come out denying the allegations, instead stating it self-reported the violations more than a year ago, and this did not involve any current players.
Which brings us to Fab. The idea the Brazilian big man is a rare example of a student-athlete failing courses and being deemed ineligible is laughable. Student-athletes – just like regular students – are sleeping through classes, ignoring class work, and flunking tests all the time. It's the ineligibility that's a joke. How many players in the current NCAA field do you suppose could've been technically suspended due to academics? At least one player per team? Maybe more? Half of the UConn and Kentucky rosters? If the Huskies and Wildcats meet in this weekend, would there even be enough players to field a game?
No one shopped Fab around the country like Cam Newton (at least that we know of). Melo's parents weren't bought a condo in Mattydale a la Reggie Bush. The big man wasn't wooed by a rogue booster on a Lake Onondaga sex yacht. So what gives?
It's not one thing, it's everything. The Fine disaster put a magnifying glass on the program. Investigative media and the NCAA started looking. And when you're a big time athletic program, football or basketball, you search hard enough, you'll find something. So I believe Syracuse felt it had Fab's situation squared away in the winter. The athletic department used the time he was out to dismiss one or two of the failing classes he had on his transcript on the grounds of a language barrier (English is Fab's second language). The NCAA kept looking. The Yahoo! report popped. And the NCAA followed the paper trail and believed Fab's reinstatement was flimsy. This week SU was alerted by the NCAA any tournament wins with Melo runs the risk of being vacated. Just my theory.
But before we blame the NCAA for snooping, or Bernie for having skeletons, or Fab for not going to class, we have to ask ourselves if SU is responsible for all of the above. Has a powerful cash-infused program turned a blind eye toward multiple potentially damning situations? Syracuse is not a renegade athletic department, or more corrupt than any other at this level. But the cost of doing big business is high. The charade of innocent college student-athletics continues. Who really believes any of these schools are doing everything above board? When you're sleeping with dogs, you get fleas. It's the reality of big time college athletics. You want to win, and win big? Well, everyone's got fleas. You just can't be that surprised when you find out.
Posted: D.A.
(adsbygoogle = window.adsbygoogle || []).push({});