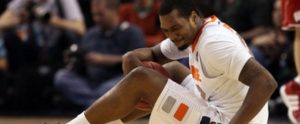 Editor's note: The Fizz is rebooting its series from last year asking "What Went Wrong?" We will unveil a new reason every day this week on why SU's March run fell incomplete. 
* * *
Kris Joseph sat in front of the cameras with his head hanging toward the table beneath him, hardly able to speak. He had just been asked what it felt like to have his college career end harshly and abruptly. After taking several seconds to compose himself, he put his feelings into perspective.
'ÄúIt'Äôs… it'Äôs tough. It'Äôs real tough knowing that my career is over. And knowing I won'Äôt be playing with these guys again.'Äù
Speaking of tough, Joseph had a tough time establishing a rhythm on offense for most of the NCAA Tournament. In total, he shot just 12 of 36 (33%) from the field over four games, with nine turnovers. In Boston, he scored only 17 combined points against Wisconsin and Ohio State, and visited the free throw line just four times.
The senior who was supposed to grow steadier as the lights grew brighter turned his usual quiet scoring into a flat out disappearing act. Occasional attempts to assert himself late in games resulted in clumsy turnovers. The Buckeyes knew Joseph wanted the left baseline, and no matter how many times he tried to get there, they steadfastly stood in his way. He missed the front-end free throw of a crucial one-and-one with 18 seconds left against the Badgers, giving Jordan Taylor a chance to stick a dagger in SU's heart then and there.
Seeing the tears pour out of Kris and Scoop Jardine's eyes following the Elite 8 made the loss doubly hard to handle. Both had wonderful careers on the Hill, and it's a shame they couldn't have ended with a trip to the Final Four.
Perhaps their time would have extended a couple games further if it weren't for the idiocy of SU's starting center. But alas, there is nothing the Orange could have done to change that. Fab Melo was gone, and there was no bringing him back. That was the reality Syracuse had to accept heading into the Big Dance for the second time in three years as a wounded one-seed.
The Orange still had enough talent and depth to win a National Championship. The road grew more treacherous without Fab, but a trip to New Orleans was still possible.
As we all know, the Orange never took that trip. Sadly, Kris Joseph served as one of the major culprits, along with poor refereeing, Fab Melo, and an Ohio State team that clicked at the just right time.
Three of those four factors were out of Syracuse's control last Saturday. Joseph could have risen to the occasion, but he didn't. And so his time in Orange up.
Posted: Andrew Kanell
(adsbygoogle = window.adsbygoogle || []).push({});