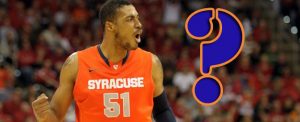 Editor's note: The Fizz is rebooting its series from last year asking "What Went Wrong?" We will unveil a new reason every day this week on why SU's March run fell incomplete. 
For the second time in three years, Syracuse fans will be left to wonder what could have been after losing a key big man just before the NCAA Tournament. After a shocking loss to Butler in 2010, Orange Nation lamented how different things might have been had Arinze Onuaku not gone down with a knee injury in the Big East Tournament. After¬†Saturday'Äôs emotional loss to Ohio State, Orange Nation will never get over Fab Melo's ineligibility.
The Orange entered the Tournament at 31-2, largely due to the presence of Melo in the middle. The Brazilian sophomore averaged 7.8 points, 5.9 rebounds, and 2.9 blocks on his way to winning the Big East'Äôs Defensive Player of the Year award. Suddenly, on the eve of the NCAA Tournament, Melo's murky status meant he would not play.
That sent fans rushing to throw out their original brackets, and a feeling of panic into the stomachs of the Syracuse faithful. Fab was arguably SU's most valuable player, because there simply was no one else on the roster who could fill his void. The lone regular season loss came at Notre Dame with Melo sidelined because of the first round of academic concerns. The Orange would have to enter the most important part of its season without its enforcer, left to start an inexperienced freshman in his place.
Orange fans still haven't been told what those eligibility concerns were over. SU was able to find enough from Rakeem Christmas and Baye Keita to reach the Elite 8, but banging with the Jared Sullinger proved too much. Would Sully have been able to score 16 points in the second half with Melo under the basket? Would Fab have sent a few of those Lenzelle Smith floaters into the third row? Could the Buckeyes possibly have corralled 14 offensive rebounds if Melo were in the middle?
While Syracuse had gutsy performances over K-State and Wisconsin, the lack of inside muscle finally caught up with them against OSU. Sullinger and DeShaun Thomas took over the game, combining for 33 points and 16 rebounds, while making a living in Melo's area.
Keita and Christmas filled in admirably in Melo's absence. Keita blocked 4 shots and pulled 10 rebounds against Ohio State, while Christmas added 6 points and 2 blocks of his own. But Fab's impact on the game was much bigger than numbers, he provided a physical presence inside that was lacking against the Buckeyes. Keita and Christmas couldn't match Sullinger's muscle. Fab would've been much better equipped for that battle.
We'll never know how a Fab vs. Sully throwdown would have turned out. It's impossible to compute the impact a particular player would have on a game. This team won three tournament games shorthanded, and fell just short of a Final Four appearance. But Orange Nation will never shake the feeling this run would have been even longer had Fab Melo been a part of it.
Posted: Steve Neikam
(adsbygoogle = window.adsbygoogle || []).push({});