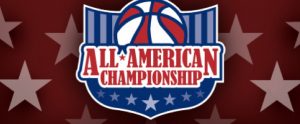 Two Syracuse commits and one Orange hopeful put on a show last night as part of the 2nd Annual All-American Championship in New Orleans, as The Fizz live blogged the event (read the blow-by-blow here). With just nine days remaining until 'ÄúNational Nerlens Noel Day'Äù on April 11th, the Tilton (NH) star, along with Dajuan Coleman and Jerami Grant all played on the East team as¬†forty of the top high school basketball stars (Class of '12 and '13) on Final Four weekend.
Noel has announced he would make his decision on 4/11, and finished with six points, six rebounds and three blocks. All three impressed as Noel sported his insane athleticism, DC 2.0 nabbed a game-high 12 boards, and Grant notched eight points. And Jim Boeheim may have been smiling as the trio played together in the same lineup the ENTIRE game.
East coach Craig Brownson from Texas made it a priority to keep the three stars in tact throughout the four quarters of action. Coleman, Noel and Grant compromised the most dominating unit of the game, as the East won 84-72. Nerlens didn't get to play in the McDonald's All-American game a few days earlier because of his reclassification, so last night was his display.
N2 used his versatility and freakish wingspan to swat away shots, his long reach is what makes him so complete. When you watch Noel, it's very hard to detect a flaw in his game. He can effortlessly knock down a 20-footer, or slice his way to rim in a few quick steps. The athletic ability is uncanny, which usually comes with being the top recruit in the country. If he can build a bit more muscle and body mass before next fall (he stands at 6' 10" 215 lbs), there's no telling how dominant he can be next season.
Coleman and Grant dazzled as well. DC has a knack for the ball. He ripped down nearly every rebound Рsimilar to his McD's performance Рand ran the floor tremendously for a big. All three ran well together, an exciting sign if Nerlens did decide to join the Orange. Coleman looks like a player that could tire quickly, but his raw aggression doesn't stop. Although 3 inches shorter than Fab, DC 2.0 will definitely become more of an impact down low as a freshman. Coleman has a much higher basketball IQ, and is a better post-up threat at this age. He's a powerful "finesse" player.
All three benefited from playing with PG Nolan Britt, who's headed to UNC in 2013. Britt pushed the ball in transition constantly, and they all thrived – making you wonder if¬†Michael Carter-Williams will run the SU offense with the same confidence next season. Grant'Äôs play resembles Kris Joseph'Äôs, but with a much better ability to drive to the rim. He's not a player who will take over a ballgame, but can score in bunches if he'Äôs alongside a reliable point guard. That playing style fits the Syracuse mold.
As well as the 'ÄúOrange Trio'Äù played together, we'Äôll still have to wait for N2'Äôs decision in a week and a half¬†to see if¬†the "Transformers lineup" will be assembled for next season. Melo and Dion Waiters are now officially gone, Scoop Jardine and K-Jo will graduate. There's a large void to be filled, but last year's Three Amigos are ready to step up along with DC 2.0 and Grant. Perhaps all it could take is one more massive¬†Calipari collapse this evening to swing Mr. Noel'Äôs decision.
Posted: Kevin Fitzgerald
(adsbygoogle = window.adsbygoogle || []).push({});