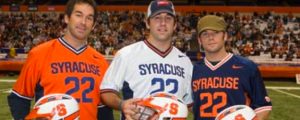 When Syracuse takes the field tomorrow against Villanova in the Big East semifinal, it'll mark a do-or-die game for a crack at the NCAA tournament.
If SU finds a way to win, it'll only be because¬†an unpredictable Orange team decided to show up. But a an early exit wouldn't be surprising since the Wildcats came into the Dome earlier this year and¬†handed Syracuse a mortifying defeat.¬†'Nova represented¬†SU's first ever Big East¬†loss, and the Orange suffered two more leagues losses this season. Frankly, Syracuse just isn'Äôt that good after having 7 All-Americans walk from its ranks.
If this is indeed a rare lost season, what does the future will look like for the most successful lax program of all-time? Four-time All American defender Ric Beardsley said on Fizz Radio the Orange may have its priorities in the wrong place on the recruiting trail.
"In a way, you've got to get bigger recruits. You look at Syracuse's rosters traditionally; they've gotten those top guys. Look at the defense I had. We were #1, #2 and #3 for two years in the country as far as recruits as that position. So, there you go. You had the top 3 high school recruits in the country on the same roster. You have to go back to getting that. You have to get that #1 guy. SU has to do something different."
Since 1995, when Beardsley last wore an SU jersey, there has been boatloads of talent, numerous Final Fours, and a fistful of championships. But this season has been a lost cause after Syracuse graduated a senior class that won two of those NCAA titles.
Once upon a time, Syracuse snapped up enough talent to run circles around the competition. Some of it was right place, right time. The Powell family hails from West Carthage, NY, and helped create the greatest family legacy in the sport's annals. But as lacrosse has spread geographically, the top talent is no longer contained only to upstate New York, Long Island and Baltimore. Which means SU needs to work a little harder. 
InsideLacrosse.com/ESPN lax recruiting editor Geoff Shannon follows the sport's incoming talent. He thinks Syracuse is already well established in their uniquely deliberate recruiting style, and would be surprised to see Desko & co. change things up anytime soon.
"Syracuse has always been a team that has built their roster differently than everyone else. They have a great area in upstate New York where they can just pull some of the best kids from there to build a nice foundation. They always get some fantastic transfers every year to help fill the roster, and they'll win a recruiting battle here or there with a guy from Long Island. They'll be a little bit more aggressive in the future but I don't see their style changing that much."
But a glance at the Tewaarton Award nominees shows Syracuse has missed on some of the elite talent on Long Island to lesser schools. While Tom Schreiber joined powerful Princeton from East Meadow, SU watched UMass and Villanova also nab kids from the area. Massachusetts plucked both Anthony Biscardi (Wantaugh, NY) and Will Manny (Massapequa, NY), while the Wildcats snared Kevin Cunningham (Garden City, NY). Meantime, Sam Bardman joined Salisbury University in Maryland from upstate New York (Canton).
That's five of the 25 best players in the country in-state that went elsewhere. Add two southern schools grabbing Tewaarton nominees from New England in Duke's C.J. Constable (New Fairfield, CT) and UVA's Colin Briggs (Narragansett, RI), and it makes you wonder if Syracuse would be wise to "start changing its style."
SU might also be targeting the wrong guys. One of the biggest reasons Syracuse has struggled to win this year has been a pitiful showing at the face-off X. SU recruited sophomore Chris Daddio specifically to take face-offs after the departure of Jeremy Thompson. Daddio was a 2010 US Lacrosse All-American who graduated high school with an incredible .880 face-off winning percentage his senior year.
But after John Desko swapped out Daddio for defender Brian Megill in at the X, some fans wondered whether SU dug its own grave. Shannon says the face-off man is just a difficult position that guys have to adjust to in college.
"It's not that simple. You can't just say, hey, we're going to spend some money on this kid and he's going to come in and be a game buster at face-off. It's a uniquely skilled position. There are some guys you can recruit, but it's a weird one. There are too many variables, so you can't throw that kind of confidence at anybody."
Shannon says recruiting at any position is going to be limited because it's a non-revenue sport. High school lax players weigh far more factors than a football or basketball athlete who is offered a full-ride.
'ÄúLacrosse isn'Äôt football. Lacrosse is not basketball. You'Äôre not getting a full scholarship to go play. You have a multitude of different factors going into where you decide to go to college. You want to go and play for the legacy. You want to go to a place because you'Äôre getting the right amount of money as compared to different schools. You want to go someplace because you like the education. It'Äôs nice to think 'oh, yeah Syracuse would go wrap up all these kids,' but there are so many factors that go into a non-revenue sport like lacrosse. I don'Äôt think Syracuse is missing out on any of those aspects of building their roster.'Äù
Even with the inherent restrictions on being a second-tier sport, it'Äôs hard to believe legendary SU lax can't clean up on the recruiting trail. Shannon says the Orange still should land top-end prospects.
"I know some of the nice pickups in their 2013 class are Jordan Evans from Jamesville-DeWitt, and you have Dylan Maltz (Derek Maltz's younger brother) out of Stone Bridge in Virginia. They're definitely doing a good job."
Then again, how bad is it really on the Hill? SU just graduated 7 All-Americans and a senior class with two national titles. Clearly Desko is acquiring talent and winning with it. This could simply be a hiccup season, a young roster which may eventually mature into yet another Final Four team. Standards are incredibly high at SU, and heads will always turn to the future. The question is: will that future be a bright one?
Posted: Jake Moskowitz
(adsbygoogle = window.adsbygoogle || []).push({});