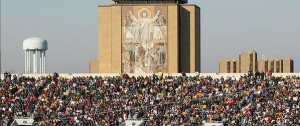 The countdown is on to July 20th, when prized defensive end Ebenezer Ogundeko will decide where he plays his college career. E.O. will make his announcement at the Aviator Sports complex in Brooklyn, and has narrowed his list of schools to a trifecta: Syracuse, Notre Dame, and Florida.
The 6'3'' 235 lb. bull rusher recorded some beast mode numbers last season as a junior at Thomas Jefferson HS. E.O. tallied 79 total tackles, along with 11 sacks. Rivals ranks Ogundeko as the 12th best DE in the nation. Having visited each school, E.O. says each is on an even playing field right now.
"I'm going to the school that best fits me. I'm not worrying about not playing. I know whatever school I go to I can play. I'm going to have that kind of confidence."
Here's a look at the three finalists:
Although SU can't match the national attention of the Irish and Gators, the Orange looks to be a legit landing spot for him. Ogundeko informed his recruiting brigade earlier in May that¬†he wants to be a package deal with RB Augustus Edwards. What used-to-be 7 schools that have offered both players has now shortened to just one.¬†Edwards hasn'Äôt received the same attention as Ogundeko, but the high school buddies have said it'Äôs 'Äúdefinitely the plan'Äù to suit up together at the next level.
E.O. is also considering the Orange because of its coaching staff. Assistant John Anselmo has been important in recent years in New York City. The defensive end said the opportunity of playing in the Carrier Dome would "mean a lot to him."
The Orange has had a eventful last few weeks, but Doug Marrone still only has 7 total commits thus far, and just 4 are on the defense. So there's plenty of space and playing time for Ogundeko. E.O. will also be part of a recruiting class that will spend its entire career in the ACC (we assume). Can Syracuse's Big Apple pipeline deliver a cornerstone in the rebuilding into a top program? He could join NYC's Wayne Williams and Delaware's Isaiah Johnson in destroying opposing QBs.
ND is already up to 14 commitments for the Class of 2013, 8 on the defensive side. The Irish just reeled in the 8th ranked DE in Isaac Rochell out of Georgia. Could the Irish take their foot off the gas in coming hard on E.O.? Brian Kelly also has 5 outside linebackers on that list of commits, a position where Ogundeko may move to. The Irish obviously have an enormous brand, and have lured defensive talent from NYC before in Ishaq Williams. But SU hopes the numbers start crunching Ogundeko.
Just like ND, the Gators already have big numbers and most of those on defense. UF has 17 commits for 2013, twelve on D, and 4 intending to play DE or OLB. Many of the Gator commits recently have been on the defensive side, and they just landed 4-star DE Joey Ivie this weekend. Florida also has once again stressed staying in-state, with 13 Sunshine State recruits. E.O. told ESPN he liked his visit to Gainesville.
"It was great. I got to spend time with the players and coaches. I bonded with the players pretty good. It was a great environment to be in. The weather was great. I liked everything about it."
The waiting is the hardest part. In a month we'll see where E.O. will G-O.
Posted: Brendan Glasheen
(adsbygoogle = window.adsbygoogle || []).push({});