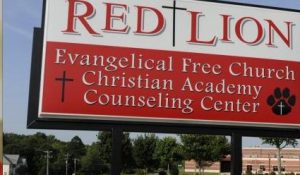 Syracuse looked like it had its seventh commitment for the Class of 2013 with RB Charles Davis, but that strangely fell apart. It didn't take long for Lucky #7 to join the mix as defensive tackle Isaiah Johnson of Elkton, MD chose Orange Thursday afternoon.
Johnson joins Wayne Williams along the Orange D-line, and both could become mainstays for Doug Marrone's newly crafted defense. The 6'5" 272 lb. powerhouse received other offers from Wake Forest, UMass, Temple, Marist, and Hawaii, along with several others.
Johnson, along with 30+ teammates and head coach Dwayne Thomas, are moving from Red Lion Christian Academy (Delaware) to Eastern Christian Academy (Maryland) due to changes at Red Lion. Isaiah's old school is downgrading from a national level football program to a Delaware independent league. So ECA is accumulating talented players who have already made commitments to some of college football'Äôs finest institutions.
Johnson was primarily a basketball star with Red Lion, but Coach Thomas says he sees vast potential on the gridiron:
"He's got extremely long arms. He's very agile and explosive for a kid his size. He's like a basketball forward with a lot of strength."
Perhaps we should forward some of this scouting report Jim Boeheim's way, since size along the hoops front line is always a priority. Thomas also believes Johnson has play-making ability and a killer-instinct, something SU has targeted over recent seasons. Johnson is uniquely mobile for a DT, and keeps his balance at the line of scrimmage with his strong frame.
Thomas runs a program known as FLASH, an intense, year-round conditioning program that helps improve physicality and mental toughness. Thomas noted that Johnson thrived in his program, due large in part to his commitment to get better. He said Marrone probably noticed that as well:
'ÄúWhen Doug Marrone and Coach (Donnie) Henderson saw film of a kid that was¬†¬†dedicated to being the best he could possibly be – and he'Äôs very physical and ran well – (a scholarship offer) was a no-brainer as far as I'Äôm concerned."
Defensive Backs Coach Donnie Henderson¬†rarely pops up in recruiting discussions, but it's always encouraging to hear more assistants making an impact for SU. Henderson has been along Marrone'Äôs side since their days with the New York Jets.
Not only did Johnson get props from the coaching staff, but also from current Orange RB Jerome Smith, who congratulated Johnson on Twitter. Smith is from nearby Bears, DE. The two players are just across the border from one another, so perhaps we are seeing yet another instance of players convincing players to come to SU. And to top it all off, Johnson has family in Buffalo. 
Making impact plays is the goal for a newly reshaped defense for Marrone. Commits LB Marquez Hodge played for a winning team in Florida, and LB Devan Carter is a close-to-home star are part of that vision now too.
The fact his coach speaks so highly of him in just one year of playing football speaks to a great work ethic:
"I think Syracuse is getting an extremely talented athlete who has played basketball most of his life. He started to play football last year, came out and dedicated himself to the conditioning program and has really blossomed into what I would call a diamond in the rough."
Posted: Brendan Glasheen
(adsbygoogle = window.adsbygoogle || []).push({});