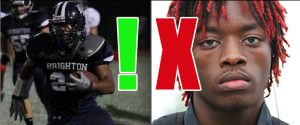 This weekend Syracuse went 1-for-2 in the summer verbal commitment battles. Rochester LB Devan Carter said yes to the Orange, while Ohio WR Mycal Trailor-Bennett is heading to Cincinnati.
Carter played RB as well, but has been recruited on the defensive side. He stands at 6'2″, 217 and caught the attention of scouts at an SU camp in Buffalo. It's always good to keep talented stars close to home. The Brighton HS product trucked to a 4.52 40, and gives Doug Marrone another in-state verbal. With elusive moves out of the backfield, Carter should bring an abundance of athleticism and speed to the linebacking unit. Marrone is constantly looking for quick, explosive athletes to man his defense.
MTR was an under the radar sleeper who had offers from Syracuse, Minnesota and a number of MAC schools. The Columbus native was right under the nose of Ohio State, but called the Bearcats his "dream school" when he committed over the weekend.
Syracuse had been pushing hard for Mykel but his interest in leaving the friendly confines of Ohio seemed lukewarm. He told The Fizz Tyrone Wheatley was attempting to see the Hill. 
"He's trying to get me to come up for a visit, and me and my mom, we've been talking about it. Syracuse is kind of far, so we have to plan ahead."
MTR also told The Fizz just days ago he would be taking part in camps all summer, and wasn't thrilled with his current crop of offers.
"I'Äôm expecting more offers to come this year. If not, I'Äôll just go with the offers I have now.'Äù
Looks like Cincy was one of those he would jump at, and the big play wideout did just that. The 6'4″ impact receiver also is a threat on special teams. The Bearcats might have grabbed a would-be star who would've seen bigger schools jump into the mix by this fall.
While SU didn't nab MTR, the Orange did net a nearby linebacker that can add depth to the defensive corps.
Posted: D.A.
(adsbygoogle = window.adsbygoogle || []).push({});