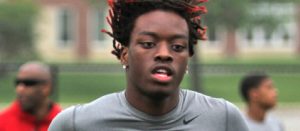 Mykel Traylor-Bennett makes big plays. But he doesn't have the big offers to show for it.
Syracuse was the first BCS school to offer the wide receiver from Reynoldsburg, Ohio, who also holds scholarship offers from Bowling Green, Eastern Michigan, Northern Illinois, Kent State, Toledo, and Minnesota. The Orange is hoping MTB reciprocates with a visit to campus and an eventual commitment.
SU super-recruiter Tyrone Wheatley has been the one reaching out to Traylor-Bennett, in an effort to bring the wideout to The Hill.
"He's trying to get me to come up for a visit, and me and my mom, we've been talking about it. Syracuse is kind of far, so we have to plan ahead."
Though he claims he's willing to go anywhere to play in college, MTB does seem a little reluctant to make the 500-mile trip to Central New York. Maybe it truly is just logistics standing in the way, but regardless it remains to be seen whether Wheatley can convince him to visit.
Standing in at 6-foot-4, Traylor-Bennett is a certified deep threat. His highlight tape has a lot vertical routes, and not much else. Reynoldsburg High School's approach consists of tossing it up in the general direction of its star wideout and hoping for the best, which for the most part seems to work out pretty well.
Route-running isn't necessarily his forte, but that's less of an indictment on Traylor-Bennett's skill level than the fact that he's a converted running back.
"I actually played running back when I was in Little League, then I started getting taller and taller after every year. So coaches were like, 'Man you have to be a receiver when you go to college.' I didn't want to listen to them. I was like, 'No, I'm a running back!'"
He's raw at this point, in need of a lot more development before he's the complete package at wide receiver. But that's often the type of athlete Doug Marrone likes to bring in. MTB is also looking to put some additional weight on his 185-pound frame to ready himself for college football.
Traylor-Bennett brings some versatility to the table, another trait Marrone values. His running back history translated into plenty of end-around plays called for him. MTB carried the ball 44 times for 249 yards and five touchdowns last season, logging almost twice as many rushing attempts as he had receptions. He caught another 24 passes for 492 yards and four TDs. He also has a knack for making plays as a punt and kickoff returner.
"I'm an athlete РI can do a lot of things," Traylor-Bennett said with a chuckle. The wide receiver has a blissful sense of confidence about him. He's not cocky, but he's clearly sure of himself and satisfied with his abilities as a player.
A member of the Reynoldsburg track team, Traylor-Bennett says his track experience adds to his explosiveness, and helps him burst off the line of scrimmage faster.
Scout gives him three stars, but that's by far the most generous ranking he has received from any recruiting service, some of which don't even have him ranked. With only two BCS offers, the wide receiver is flying far below the radar.
But that's never been something Marrone has cared about, and Traylor-Bennett isn't concerned, either.
"I'm not really waiting on anybody in particular (to offer a scholarship). I'm just going to go to the camps this summer, show colleges what I'm capable of doing this coming year, and how I've advanced. I'm just going to wait to see, I'm expecting more offers to come this year. If not, I'll just go with the offers I have now."
For now, the Orange is in Traylor-Bennett's top three, along with Minnesota and Northern Illinois. Reynoldsburg sits right in the backyard of Columbus, but don't expect Ohio State to come calling unless MTB's stock absolutely skyrockets. Cincinnati is the most compelling program that has yet to send him an offer. The UC campus is just two hours from his home, and he has previously expressed heavy interest in the Bearcats.
Will SU remain near the top of Traylor-Bennett's list if more offers come in? Possibly, if Wheatley can lure him to take visit in the meantime. But that's a big "if" at the moment.
Posted: Andrew Kanell
(adsbygoogle = window.adsbygoogle || []).push({});