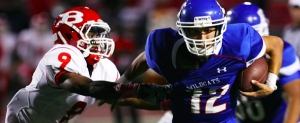 Being only the 2nd Texan in six years to commit to Syracuse, Zach Allen knew he would raise a lot of eyebrows in amazement for Orange fans. The Temple, TX native set the bar even higher, receiving an invite last night to the Elite 11 Finals in July.
Allen was a standout at the Dallas regional in Cowboy Stadium, which speaks to his 22nd overall selection by Trent Dilfer, former Super Bowl champion and HC of the Finals squad. From a field of over 70 QBs, the Cowboys' Tony Romo saw enough to say that Allen was his favorite player from the regional. Allen joins a pool of 25 QBs, and the young stud got some props from Dilfer:
"He is a young Colt McCoy with an even better arm. He's a dynamic athlete. Plays the position the way I look for it to be played: sudden. That's quick and fast, a mind, body, and arm. Everything he does has urgency. He's a playmaker. He's a passer that can also beat you with his legs. Syracuse is very, very lucky to have Zach Allen come to their school."
ESPN ranks Allen as the 48th ranked pocket passer out of all the 2013 recruits, and you could make a case Allen is the least sought after from the Elite 11 group. But Dilfer clearly saw something in Allen that made him a finalist. He also noted that the selections were not just based on stars or the most offers:
"We were finding the 24 best competitors: the guys with that fierce competitive spirit that also had the physical and mental make-up to be successful. This was a very, very talented class in itself, very deep."
Dilfer could easily be talking about himself. Never a guy with a rocket arm, Dilfer used a competitive drive and guts to help the Ravens with the '00 Super Bowl. Allen told The Fizz already that he hates losing, and that spirit is something SU needs in its program. Allen has already shared his eagerness to compete with signal-caller Austin Wilson for depth chart positioning.
Dilfer also added that Allen is a great athlete and a playmaker. It can never be stressed enough how Doug Marrone wants a paradigm shift in offensive schemes, from a predictable offense, to a more dynamic one. Allen hasn't got the attention of being a "dual-threat" presence, like some of SU's other candidates aboard the carousel. But he plays with a sense of urgency every down, doesn't blink under the spotlight, lets his instincts take over, and as Dilfer puts it, he is "sudden."
The two stars for Allen is a huge understatement. Dilfer didn't want the 25 highest ranked QBs in the country, but to also have some underdogs who want it badly enough and will use that drive in the competition. Allen is highly-motivated, and it says a lot that he was mentioned in this very talented class.
SU fans should be thrilled the Orange has an incoming QB who is getting some national love and is looking forward to the challenge. Mid-July should be awfully interesting for Syracuse. E.O.'s rendition of "The Decision" should take  place on the 20th, while Allen looks to impresses us even more once again from the 18th to the 22nd.
Posted: Brendan Glasheen
(adsbygoogle = window.adsbygoogle || []).push({});