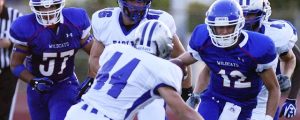 Zach Allen was the top dog on his Wildcats squad this past season at Temple HS, throwing for over 1,500 yards, and accumulating over 20 touchdowns on the ground and through the air. But he's used a little extra motivation these past few months, bursting onto the national scene with a selection to the prestigious Elite 11 Quarterback Camp. Allen told The Fizz his role as the dark horse has been driving him to reach the top.
"I think a lot of it had to do with me being the underdog. No one really knew about me, I hadn't had many offers and I came up to [the Elite 11 Dallas Regionals] and had a really good day and really stuck with the big time recruits. No one really expects too much from you. I think they saw my potential and wanted to see some more of me."
Allen impressed nearly every analyst or scout that came out to watch him during his tryouts for the Elite 11 Camp. Being just a two-star recruit according to most sites, it's a huge eye-opener to be selected to participate in the competition that runs from July 18-22. Allen said the process has been humbling. ESPN analyst and Elite 11 coach Trent Dilfer even compared him to a young Colt McCoy - with a better arm.
"All I could do is smile when I heard that. I grew up a Longhorn fan, and my dad and mom went there and my dad even played there. Getting compared to [McCoy], it's really unbelievable. It was very neat to hear that."
The Fizz has been high on him from the start. His mechanics are really solid for a dual threat QB. And SU has a long-term plan for the Texas native. Allen admitted he couldn't wait to get to the Elite 11 competition so he can represent Syracuse. The last time SU had a QB at the Elite 11? Never. Allen will be spreading the Orange name.
Being ranked only as a two or three star recruit surely doesn't slow Allen down. He's thrilled that he gets the chance to compete with the nation's best in California next month.
 "It's going to be a really neat experience going down there for that week, and hanging out with some of the top recruits in the whole nation. I'm really going to go out there and show that I belong with those big four and five star recruits. Every kid's dream is to go play college ball, and to have these things come true, it's incredible."
Zach's schoolwork is on schedule as well. The QB will be graduating early from Temple HS so he can enroll at SU in January of 2013, and is completing an English course this summer. It gives him a leg up on Austin Wilson, the other QB commit in Syracuse's 2013 class, who as of now won't be getting to campus until next summer.
But for four days in July, Allen will set aside the schoolwork to showcase his skills at the Elite 11. His main goal is to show that he shouldn't be labeled as just a scrambling QB.
"[I'm going to] show how much of a competitor I am, and that I am accurate with the ball. They have me as a dual threat passer, but I feel like being an accurate passer is a huge part of my game. I want to have fun, meet these guys and show I belong on the same field as them."
He'll be getting a ton of extra attention these months leading up National Signing Day. He's whole-heartedly committed to playing for SU, even despite the looks he will be getting. So whether you call him Colt McCoy 2.0, one thing is for certain, and it's that Allen's summer stock is rising. And the sky is the limit this July at the Elite 11 QB Camp.
Posted: Kevin Fitzgerald
(adsbygoogle = window.adsbygoogle || []).push({});