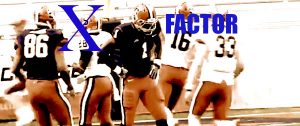 Syracuse's new season officially begins this weekend, as Doug Marrone will open camp. SU has continually talked about creating big offensive plays this year, and Ashton Broyld's potential in that area is something The Fizz is keeping a close eye on. What role will Broyld have with this team? The Syracuse Slash can do a little bit of everything, and that was on display this spring.
The Spring Game highlighted some of the ways the Orange might use the versatile athlete, but the coaching staff has yet to declare their intentions. Marrone spoke at Media Day about the plan with Broyld, and said they will continue to rotate him around the field. It's up to him to learn and thrive at one (or more) of those spots.
"I think we're going to keep him going around (from position to position) and really put the pressure on Ashton to make sure he can handle what we're going to throw at him. And we're going to throw it at him and see what he can handle. And then if we feel he's not handling something and he is not progressing then we'll back off."
Looks like Broyld's learning curve will decide where and how much he plays. Doug was all business in Newport, and we assume he's up late at night creating possible mismatches for his offensive weapons.¬†The Fizz ranks Broyld'Äôs top three possible positions where he could thrive for SU:
He spent time at wideout in the Spring Game, and the idea of the slippery 6'Äô4″ Broyld running routes on the quick Dome turf sounds great. He doesn'Äôt possess the same high-end speed as guys like Alec Lemon, but he is a natural runner, and once he understands the passing playbook, it's a no-brainer to run plays for him. Broyld can bring a big play capability. Get the ball in his hands and let him make people miss. Bubble screens, quick slants, short timing routes should all be drawn up to get him the football in space. He could also be utilized in handoffs and reverses, by being set in motion from his wide out spot.
He's comfortable with the ball in his hands, so why not allow him chances to return kicks? Punt and kick return duties are always good ways to help field position and create big plays. Rotate him in during summer camp and see how effective he can be. Maybe there's even a package of fake field goals or extra points where Broyld can line up as a blocker, only to become a receiver or runner at the snap.
This seems to be a no-brainer. Just before spring practice began, Marrone stated one his main goals was to establish playmaking schemes in the offense. You have the prototypical pocket passer with Ryan Nassib. Zach Allen or Austin Wilson may take over that role down the road. But creating packages where Broyld gets snaps to keep a defense on its heels makes sense. Imagine a natural quarterback with a good arm like Broyld taking a hand off? With the threat to either pass or run, opposing defenses would have a tough time preparing. A stale offense could automatically become an exciting one with Ashton's packages.
It will probably be difficult for Broyld to get too many snaps as a traditional running back since SU has so many bodies there already. George Morris finally made his way to campus, and DeVante McFarlane joins him as a freshman duo. Veteran presences Jerome Smith and Prince-Tyson Gulley are there, plus enormous sophomore Adonis Ameen-Moore. Broyld could get handoffs, but more than likely it comes out of the WR or Wildcat position.
Ashton is a dynamic threat SU has been searching for. He is a multipurpose piece of this offensive puzzle, and it looks like Marrone is open to trying him in multiple spots. It's up to Broyld to put in the work to learn those positions. But this has big potential written all over it for the Orange.
At what position do you think Broyld's biggest potential is? 
Posted: Brendan Glasheen
(adsbygoogle = window.adsbygoogle || []).push({});