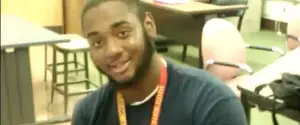 With the current Orange enjoying its bye week,¬†The Fizz fires up Syracuse's recruiting engine. The latest addition to the list of 2013 prospects is defensive end Justin Moody. The Philly native favors SU and Pittsburgh as his top schools. Rutgers, USF, Temple, Purdue, Buffalo and Old Dominion round out Moody'Äôs offer list.
The 6'3" 240 lbs. beast had a tremendous junior season that has carried over into his senior stint. Moody had 20 tackles for a loss, 12 sacks and five forced fumbles last year and currently anchors the defense for 4-0 George Washington High School. Head coach Ron Cohen has seen the development of Moody, and gave The Fizz a thumbnail of Moody in the college game:
"He's an aggressive young man that plays both sides of the ball. For the next level, I'm pretty sure hopefully defensive tackle or defensive end. He has good speed and quickness off the ball."
Speed definitely fits the profile for a Syracuse defensive player. The Orange has struggled so far preventing the big play this season. Finding big guys on the line that have speed is a huge plus. SU has certainly explored those types like commit Wayne Williams and highly sought Ebenezer Ogundeko. The Marrone Era continues to be centered around accumulating fast, playmaking talent.
The Orange must pounce on Moody'Äôs services quickly. Syracuse can'Äôt only play¬†the ACC card¬†since Pitt also has a chance to land Moody. Geography actually favors SU in this battle. Quick pop quiz: Which campus is closer to Philadelphia? The correct answer is Syracuse (by about 50 miles), even though Pittsburgh is in Moody's home state.
He can play in the MetLife College Classic for two years as well compete in the Carrier Dome. It would also help if SU could pull out a win next Friday night when it hosts the Panthers, and perhaps crawl up the BE power rankings. Coach Cohen says Justin should be making a visit soon as well as to other Big East competitors:
"He's going to take a trip up to Syracuse, Central Florida, Purdue, Pittsburgh, probably Temple. Right now that's what we are trying to figure out. We are in the meat of our season so it's tough."
Ironically enough, the three-star Moody ranks 17th in the top players from Pennsylvania, with SU QB commit Austin Wilson right behind him at #18. Wilson is killing it right now at East Pennsboro posting big numbers. Moody also plays basketball at George Washington. Perhaps he's giving Coach Boeheim a call or hitting up Dion Waiters to ball up at the local courts before training camp with the Cavs.
But Moody is all business during football season. He has been a mainstay for his high school team. Cohen says he gets respect from the locker room on and off the field.
"He's done a very good job. The kids listen to him. He's been on varsity for four years, a four year starter. They respect his ability and his leadership."
George Washington currently leads the pack in its division with an undefeated record. The Fizz asked Cohen if Moody has an "it" factor that separates him from other players. Come the end of each week, Cohen says Justin is off to the races:
"He has a motor that he turns on game day. He works hard in practice. But on game day he hits the other switch. He plays very aggressive and doesn't come off the field too often."
Imagine an incoming set of bookend DEs in Moody and Ogundeko? Syracuse has had its eyes on Moody since last year, and now is the time to try and seal the deal.
Posted: Brendan Glasheen
(adsbygoogle = window.adsbygoogle || []).push({});