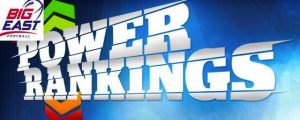 Louisville remains perfect atop the weekly Fizz Big East Power Rankings, but the conference did loss a team from the BCS polls for a second straight week. If you're keeping track, the MAC Рyes, the MAC Рhas now collected 4 wins against the BE this season. A couple of teams got back to .500, but the bottom tier of the conference continues to plummet. Here's this week's Power Rankings:
1) #10 Louisville 8-0, 3-0 (Last weekend: W, 34-31 v. Cincinnati)
The Cardinals didn'Äôt get off to the best start against the Bearcats, but QB Teddy Bridgewater came up clutch again late, tossing two fourth quarter TD passes. Louisville remains perfect -¬†and jumps Rutgers for the #1 spot¬†-¬†but continues to win by the skin of its teeth. Bridgewater passed for over 416 yards and two TD'Äôs, the first 400 yard game of his career. The Cards are undefeated, but clearly not national championship caliber. If you placed them in the SEC or another powerful conference, they'Äôd have three losses by now. UofL might not be exposed until the bowl game, but they're winning the games they have to right now.
Up Next: v. Temple, Saturday
2)   Rutgers 7-1, 4-0 (L, 35-23 v. Kent State)
The Knights didn'Äôt have Hurricane Sandy on their minds during a lackadaisical loss to the Golden Flashes. Instead it was Hurricane Durham that ripped through RU. 6'Äô0'Äù 260 lb. tailback Trayion Durham bulldozed the Rutgers front line for 131 yards and a TD. Kent State dominated the line of scrimmage and tamed and manhandled¬†RU's defense.¬†Gary Nova threw six picks, and resorted to freshman mistakes like passing into double coverage, and throwing across his body. A terribly ugly game, but the Knights get away with murder. If you'Äôre going to drop a game, do it against a non-conference opponent in October.
Up Next: v. Army, Saturday November 10th.
3)   Cincinnati 5-2, 1-1 (L, 34-31 @ #10 Louisville)
Cincinnati remains at #3 despite their loss to the Cards in the rain. Munchie Legaux continues to struggle, but Cincy showed a lot more physicality despite giving up 34 points. Legaux threw 3 interceptions, including one in overtime that finished off the Bearcats, and got off to a dreadful 4/15 start in the first half. Behind RB George Winn the Cincinnati ground game was solid, but Legaux needs to play more consistent or this team could fade quickly. The Bearcats finish with five straight Big East opponents.
Up Next: v. Syracuse, Saturday
4)   Syracuse 4-4, 3-1 (W, 37-36 @ USF)
A fantastic come from behind win for the Orange, but it remains fourth in the conference. SU erased a 20-point halftime deficit, but still a lot to improve upon heading into its critical four game stretch to end the season. Penalties piled up Saturday, and the Orange won't be able to get away with sluggish first-half starts in its quest for six wins. This game brings huge momentum, though. Ryan Nassib threw four touchdowns, and Marcus Sales and Jarrod West combined for 16 catches and 223 yards, as the duo lit up the secondary in the second half. That was not a stout Bulls defense by any means, and SU needs to get off to a better start against Cincinnati this weekend on the road.
Up Next: @ Cincinnati, Saturday
5)   Pittsburgh 4-4, 1-3 (W, 47-17 v. Temple)
This could be the most volatile football team in the Big East conference. You don't know what you're going to get each week. QB Tino Sunseri was steady and passed for 321 yards and 3 TD's. He's been the most consistent to piece to an inconsistent offense, and is 8th in the nation in passer rating (164.8). Pitt raced out to a 31-7 halftime lead over the Owls and never looked back. The fast start helped the Panthers forget about their 105 penalty yards. They will get steamrolled by Notre Dame this weekend, but still have enough left in the tank to get to the six-win plateau.
Up Next: @ #3 Notre Dame, Saturday
6)   Temple 3-4, 2-2 (L, 47-17 @ Pittsburgh)
And now the flipside. The Owls slip one slot in the rankings after taking a beating from the Panthers. This team really doesn't do enough offensively to stay competitive in shootouts. Chris Coyer has been the definition of inconsistent, and RB Montel Harris isn't getting enough carries to be as effective. Temple has a couple left on the table that are winnable, but with a schedule of only 11 games, getting to six wins will be very hard.
Up Next: @ #10 Louisville, Saturday
7)   USF 2-6, 0-4 (L, 37-36 v. Syracuse)
QB BJ Daniels was running and gunning all night down in Tampa. Too bad he couldn't suit up for the D. The secondary couldn't stop Nassib, and the defense squandered a 20-point halftime lead for the most demoralizing loss of the season. Where was the BJ of Saturday night was all season? The fifth year QB didn't turn the ball over, passed for a touchdown, and also racked up 134 yards on the ground. USF showed an offensive fire that hasn't been seen much of this season.  The final month could be competitive for the Bulls, but four straight wins usually don't follow six consecutive losses.
Up Next: v. UConn, Saturday
8)   UConn 3-5, 0-3 (Bye)
And the lowly Huskies round out the rankings at #8. UConn had a bye this week, and it sure needed it. Something needs to spark this team on the offensive end after its 30-point loss to SU two weeks ago. Connecticut and QB Chandler Whitmer has to come out swinging against South Florida on Saturday.
Up Next: @ USF, Saturday
Fitz's Finish: Projected Big East Bowls/Records
1. Rutgers: 10-2, 6-1                         BCS/Orange Bowl
2. Syracuse: 6-6, 5-2                         Russell Athletic Bowl
3. Louisville: 10-2, 5-2                     Belk Bowl
4. Cincinnati: 8-4, 4-3                     Pinstripe Bowl
5. Pitt: 6-6, 3-4                                   BBVA Compass Bowl/Autozone Liberty Bowl
6. Temple: 5-6, 3-4                            N/A
7. USF: 4-8, 2-5                                  N/A
8. UConn: 3-9, 0-7                            N/A
(adsbygoogle = window.adsbygoogle || []).push({});