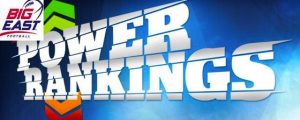 West Virginia retains the top spot in our power rankings… oops. Could any defense in the Big East stop Geno Smith right now? The conference went 3-1 this week, but besides Cincy'Äôs big victory over Virginia Tech, it wasn't a deep week of games. There were a slew of bye weeks, and a couple ugly-looking wins. Here's The Fizz Power Rankings.
1)   #22 Rutgers, 4-0, (Last weekend: Bye)
The Scarlet Knights were off this weekend, but still hold the top spot. Unfortunately, their win over Arkansas seems to be looking worse and worse by the week. Nonetheless, expect a two touchdown victory over UConn in Piscataway. The Huskies are pretty stout against the run, so it'll be another solid day from QB Gary Nova through the air.
Up Next: v. UConn, Saturday
2)   #19 Louisville, 5-0 (W, 21-17 @ Southern Mississippi)
It might not be the prettiest 5-0 start, but the Cardinals found a way to notch their best first month of a season since 2006. On a very rainy afternoon in Mississippi, Louisville fell behind 17-6 to the winless Golden Eagles, and didn't take the lead until the last five minutes of the fourth quarter. The Cards dominated the time of possession, yet still had trouble sustaining drives thanks to the bad conditions. Still, faster starts are needed once they open conference play in ten days. The good news: another solid day for the backfield duo of Senorise Perry and Jeremy Wright (42 carries, 202 yards, 2 TD's combined).
Up Next: @ Pittsburgh, October 13th.
3)   Cincinnati, 3-0 (W, 27-24 v. Virginia Tech)
Leggoo! As in Munchie Legaux. The junior's Hail Mary touchdown pass in the final seconds of Saturday's win over the Hokies provided the highlight of the weekend. The QB only completed 19 of 42 passes, but did rack up 376 yards and 3 TD's. Even though Tech is a bit overrated this year (and is having Big East nightmares) this is a solid non-conference win with three cupcakes left on the schedule. Cincy will stay competitive if Legaux and tailback George Winn can carry the ball effectively and create that power combo in the backfield. It takes the pressure of the passing game.
Up Next: v. Miami (OH), Saturday
4)   Pittsburgh, 2-2 (Bye)
Pittsburgh stays puts at #4 after a bye this weekend. Tomorrow's game will give us a good idea of which Panthers squad will show up the rest of the season. Will it be the lackluster offense that opened up the year 0-2? Or will RB's Ray Graham and Rushel Shell pound be efficient on the ground like their previous two blowouts? Pitt already has one loss in the conference, and should come out motivated against the Orange. The Panthers have won eight of the last nine matchups against SU.
Up Next: @ Syracuse, Friday
5)   UConn, 3-2 (W, 24-17 v. Buffalo)
The Huskies climbed past USF in the rankings to take the #5 spot. Coach P and his squad continue to use its grind-it-out gameplan of controlling the clock and wearing down defenses. Lyle McCombs and Martin Hyppolite rushed for a combined 157 yards and 2 TD'Äôs. Connecticut'Äôs wins haven'Äôt been the most impressive, but it's halfway to a bowl – and that would be tough to watch if Pasquoloni gets there and Marrone doesn't. QB Chandler Whitmer is going to have to be flawless this weekend against Rutgers'Äô hounding defense.
Up Next: @ #22 Rutgers, Saturday
6)   USF, 2-3 (L, 30-17 v. #4 Florida State)
The Bulls can'Äôt stop the bleeding. It'Äôs now three straight losses for South Florida after playing the Seminoles pretty tough in the first half. A team that was¬†picked #2 preseason in the conference¬†hasn'Äôt showed much consistency all year. QB BJ Daniels can'Äôt do it all, as the senior accounted for 215 of USF'Äôs 268 total yards. The Bulls now play two straight road games, and don'Äôt return home until October 27th. Once again, a talented Bulls team just can't figure out how to put it together. Coach Skip Holtz better watch out for upstart Temple, this week.
Up Next: @ Temple, Saturday
7)   Syracuse, 1-3 (Bye)
No more breaks for SU the rest of this year. They are coming off their only bye week, and probably have to win five conference games to become bowl eligible. It starts against the Panthers Friday, the team that dashed their bowl hopes on the final day of last season. The front seven needs to get pressure on QB Tino Sunseri and rattle him into making mistakes. Syracuse is -6 in the turnover differential this season. The Orange has to create opportunities and scoring chances, especially with how well Graham and Shell have pounded on the ground. Friday starts the long trek back to bowl eligibility for the Orange.
Up Next: v. Pittsburgh, Friday
8)   Temple, 1-2 (Bye)
The Owls did not play last weekend, already its second and final bye week of the 2012 season. Temple ranks dead last in the FBS in passing yards per game, and QB Chris Coyer has completed just 45% of his passes. But he may be in for a big game against a depleted USF squad this Saturday. It could make for a nice home victory in Philadelphia, and could jumpstart a team that certainly hasn't found its rhythm yet this year.
Up Next: v. USF, Saturday
Posted: Kevin Fitzgerald
(adsbygoogle = window.adsbygoogle || []).push({});