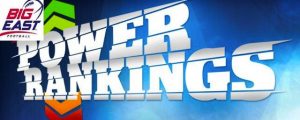 Election Day is in the books, so the balance of power for this week's falls to The Fizz Big East rankings. It hasn't shifted much from last week. Once again #9 Louisville retains office as the top Big East seed, but there are some teams that made some moves in the rankings. Syracuse gets its chance to knock off the Cardinals from the top spot this weekend, especially for the seniors in their last career home game. After SU's critical loss to Cincy over the weekend, does the Orange stand pat or slip into the lower tier? Here's this week's Power Rankings:
1) #9 Louisville 9-0, 4-0 (Last weekend: W, 45-17 v. Temple)
The Cardinals pummeled Temple by four touchdowns, thanks to a balanced offensive attack. Teddy Bridgewater threw for 300+ yards, and an astounding five TD passes. Louisville's defense picked up in the second quarter and never looked back. Bridgewater could very well be the best QB Syracuse sees this season. Yeah, and that does include Matt Barkley. The Cards have put together a flawless season thus far and don't plan on dropping any games. Jerome Smith tells The Fizz the Cardinals are a team that are patient and just keep on plugging. SU has to remain disciplined for 60 minutes. We think UofL is ripe for an upset at the Dome, but will take the conference by beating Rutgers later on.
Up Next: @ Syracuse, Saturday
2) Cincinnati 6-2, 2-1 (W, 35-24 v. Syracuse)
The Bearcats earn a promotion in this week'Äôs ranks because of their gutsy win against the Orange. George Winn had a career day with 3 TDs. Munchie Legaux was pulled from the game in the third¬†quarter, but even without his dual threat Cincinnati got the job done. Cincy wasn't perfect, burt still found a way to win the game. That'Äôs what good teams do. Rutgers was on their bye week, so the 'ÄòCats get the nod this week to move on up.
Up Next: @ Temple, Saturday
3) Rutgers 7-1, 4-0 (bye)
The Scarlet Knights had a bye week to fix their dreadful mistakes after the loss to the Golden Flashes. It was a classic trap game. Kent State dominated the line of scrimmage of Rutgers and the stellar RU's defense disappeared. Gary Nova struggled and threw six picks, but expect RU to come out strong against a bad Army team. The Knights are still undefeated in conference, and are a threat to Louisville.
Up Next: v. Army, Saturday
4) Pittsburgh 4-4, 1-3 (L, 29-26 @ Notre Dame)
The Panthers put up an impressive fight against the Fighting Irish. Had it not been for a shanked chip-shot FG, we are talking about a huge upset win for Pittsburgh. The game was in South Bend, which is never an easy place to play. Kudos to Pitt for at least giving the Irish a game. It's tough to put the Panthers above the Orange since SU won the head-to-head, but for at least a week we should give Pitt credit for a gutsy road effort against one of the best teams in the country.
5) Syracuse 4-5, 3-2 (L, 35-24 @ Cincinnati)
Obama was able to get it done in Ohio, but Syracuse was not. The Orange drops a spot this week, but you couldn't have written a better script for the team to come out and steal one in Cincy. Syracuse had a lead, but coughed it up because of costly turnovers. Until that improves, SU isn't going anywhere. The penalty problems are just escalating, not being solved. The Orange has to win two of its final three games for a bowl bid, and it starts against the Cardinals. We are predicting an eye-opening victory for SU at home this week, followed by a win at Temple to get the Orange to bowl eligibility.
Up Next: #9 Louisville, Saturday
6) USF 3-6, 1-4 (W, 13-6 v. UConn)
South Florida moves up one spot for a bounce-back, defensive effort against the Huskies and its first win in conference. Yes it's only UConn, but USF was coming off two shoot-out losses so allowing just six points is impressive. USF showed a fire on defense that wasn'Äôt present in previous weeks. The Bulls stopped their six-game losing streak, and displayed they can get it done on both sides of the ball.
Up Next: @ Miami, Saturday
7) Temple 3-5, 2-3 (L, 45-17 @ Louisville)
This is where it gets ugly. The Owls drop a spot in the rankings after a blowout loss to Louisville. The Cardinals are the best team in the conference, but Temple shows again it can't hang around in high scoring games. Temple still has its game against Syracuse to win some respect from The Fizz, but getting killed by UofL shows where this program is right now.
Up Next: Cincinnati, Saturday
8)UConn 3-6, 0-4 (L 13-6 @ USF)
And the lowly Huskies round out the rankings at the bottom, AGAIN. UConn had a chance to beat its closest opponent in the standings in USF. Connecticut and QB Chandler Whitmer had to come out swinging against South Florida's porous defense on Saturday, and failed to do so. Only two FGs, so last place for you Coach P.
Up Next: Pittsburgh, Friday
Projected Big East Bowls/Records
1. Louisville: 10-1, 6-1                     BCS/Orange Bowl
2. Cincinnati: 10-2, 6-1                   Russell Athletic Bowl
3. Rutgers: 9-3, 5-2                           Belk Bowl
4. Syracuse: 6-6, 5-2                         Pinstripe Bowl
5. Pitt: 6-6, 3-4                                   BBVA Compass Bowl/Autozone Liberty Bowl
6. Temple: 5-6, 3-4                            N/A
7. USF: 4-8, 2-5                                  N/A
8. UConn: 3-9, 0-7                            N/A
Posted: Brendan Glasheen
(adsbygoogle = window.adsbygoogle || []).push({});