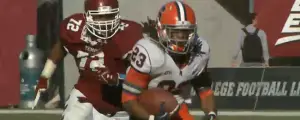 If someone told you at 2-4, the the midway of the season, the Orange would only lose one more game, you'd think that person was crazy right? But believe it or not, Syracuse managed to pull off a thrilling second-half of the season with a 5-1 record, finishing it off Friday 38-20 over Temple. SU not only scored big on Black Friday, but also Saturday with both Rutgers and Louisville taking losses.
Once again, everything seemed to click on both sides for the Orange. Early on, bad SU reared its ugly head with sloppy penalties and bad execution. But like against Missouri, the Orange overcame a slow start and finished strong. Good SU pushed past its Turkey Day hangover and eventually created scoring opportunities with the play action run/pass as well as the Tank package. The defense forced turnovers, and squeezed Juice Granger.
Now we can look forward to the Orange opponent in the bowl game. Here's the Fizz Five, the five biggest takeaways from the Temple win.
Syracuse loves to put itself in a hole.
Football fans looking for a heart attack? Become a Syracuse fan. The Orange dug itself into a 10-point hole right out of the gate. The same scenarios occurred against USF (down 22-3 at halftime), and the Mizzou game (trailing 17-3). We're seeing a lot of swag out of this Orange squad. SU does not panic and that should help this team come bowl time. The Orange displays discipline and confidence once it gets down early. SU cleaned up the silly turnovers (multiple fumbles in the first quarter) and costly penalties.
Orange can share the Big East title.
If Louisville beats Rutgers next week SU can finish no worse than tied for the conference crown. It would leave at least three teams with a 5-2 record. Cincinnati can also join that group with a win over UConn. The winner of the Big East would be determined by highest BCS ranking. As The Fizz detailed, it's highly unlikely the Orange at 7-5 would win that tiebreaker, but it's mathematically possible. But just to be in the conversation shows the resiliency of the program over the last month and a half.
SU ends its Big East membership with a bang.
Amazingly, Friday marked either a winning or losing record in its Big East history. The win over Temple means an overall 76-75 record in conference play. The past 21 years have been both good and bad to the Orange, but ending strong was a terrific statement. SU did so with its creative play-calling in its final six games. Its only two league losses were close and on the road (at Rutgers and Cincy). If a play or two went differently, it could've been a flawless Big East season for SU.
This type of season builds a great reputation for recruiting.
Syracuse recruits who watched how Syracuse finished had to have come away impressed. Early season sloppy play and concerns about playing musical chairs with the coaching staff isn't appealing to recruits. Finishing in style with two dara,tic wins against USF and Missouri, along with blowouts against top 10 Louisville and Temple really make Syracuse's brand look good. Guys like Zach Allen and Austin Wilson have showed their anticipation to head to the Hill all year long, and have to be excited after seeing this great turnaround. Isaiah Johnson caught up with us last week and is pumped the team is playing well, and other recruits can't wait to hear again from the program. The move to the ACC by a program that finished 5-2, and could end tied for the league title sounds pretty cool to us.
What a difference between the beginning and the end. 
The most vivid early memory was Ryan Nassib's surprising comments that his team wasn't ready to beat Northwestern to open the season. Would Nassib be the leader many expected? Would the offensive weapons work out? Would this defensive live up to expectations and force turnovers? Ryan has emerged as a potential NFL prospect and the best statistical passer in program history. The runningbacks have been outstanding, from 1000+ yard back Jerome Smith to up and coming Adonis Ameen Moore. The defensive leadership, including the struggling secondary, turned out formidable. Now we are talking the top tier Big East bowls.
Posted: Brendan Glasheen
(adsbygoogle = window.adsbygoogle || []).push({});