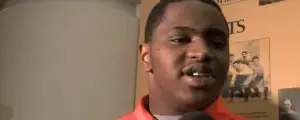 Adonis Ameen-Moore and Max Beaulieu are suspended for the Pinstripe Bowl, and the never-ending saga of Doug Marrone's discipline writes another chapter. Adonis is a much larger loss for Syracuse heading into Saturday. His best rushing performance of the season came in the regular season finale against Temple, with 10 carries for a career-high 57 yards, and two scores. . Both players were penalized due to the very vague "violation of athletic department rules."
Tight end Beaulieu has played in just one game, the  blowout victory over UConn. But Ameen-Moore has been used in the much talked about "tank package," lining up at tailback in goal line situations and running behind the fullback. The 5'11", 229 lb. back specialized in short-yardage runs.
Follow The Fizz on Twitter @OrangeFizz for all your Pinstripe Bowl info. We have team coverage from the Bronx all week!
When Adonis plays, the Orange usually wins. He's had snaps in 6 of SU'Äôs 12 games. The Orange was 5-1 in those contests. It'Äôs frustrating since¬†Syracuse has had problems all year with red zone execution. Moore provided that extra tool Marrone could turn to get a goal-line score. Ameen-Moore has seemed to turn a corner with the coaches confidence. He didn't see action until the Pittsburgh game, and then finally played regularly down the stretch on the goal-line. When this offense really hit its stride after the 2-4 start, he was a key element. The power back punched in five touchdowns in his six games.
With Ameen-Moore out, Marrone will have to either find a goal-line replacement or scrap the tank package. With an already shaky West Virginia defense, it would seem the stars are aligning for another big Pinstripe Bowl for¬†Ryan Nassib. The team's¬†MVP played terrific football in the second half of the season.¬†Alec Lemon and Marcus Sales will continue as SU'Äôs one-two punch through the air, but look for Jarrod West and Beckett Wales to see some more opportunities in the goal-line playbook.
The Orange has dependable running backs in Jerome Smith and Prince Tyson-Gulley no doubt, but short yardage has been the territory of Ameen-Moore. So Nassib may be asked to find check-downs and quick passing routes on short yardage plays or at the goal loin.
It's always disappointing when a program has to deal with suspensions leading up to a bowl game, but SU seems to constantly find itself in disciplinary mode. Marquis Spruill and Steve Rene have been at the center of more suspension chatter. But helping Syracuse cope with the loss of Adonis is the Mountaineers terrible defense. Ir's ranked 116th in points allowed. This should be high-scoring and fun, even with no more Moore.
Posted: Brendan Glasheen
(adsbygoogle = window.adsbygoogle || []).push({});