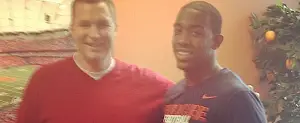 Arguably the biggest weekend in Doug Marrone's recruiting history has already been highlighted by two commitments, including beating Michigan State to DE Trevon Trejo. Both Trejo and another JuCo player, offensive lineman John Miller, gave their verbals over the last 48 hours following visits to Syracuse last weekend.
Trejo's commitment is huge considering the Spartans seemed to be in the lead for him as late as last week. While MSU was only 6-6 this year, the Spartans have gone to six straight bowl games in the B1G, and knocked off Georgia in last year's Outback Bowl. Beating Michigan State to a player is definitely a strong move for SU. ¬†Trejo plays for Golden West College in California, and stands 6'5″, 245 lbs. Adding him to a group of pass rushers looking to fill the void Chandler Jones left creates good depth for the Orange.
SU also adds more size with the 6'3″ 317-pound Miller along the trenches. He's played mostly center in college, but says he'll come to the Hill as a guard and could move over the ball. Interestingly, both players were being heavily recruited by New Mexico. Miller was also offered by TCU. Miller said the strong finish helped sway him to SU.
"I loved it. They're an up-and-coming program. They just got a share of the Big East title. This feels like a new home for me."
Now let's see if the same effect happens for the athletes on campus this past weekend. The big fish was the Brooklyn Beast Ebenezer Ogundeko. The best prospect in New York tweeted things like "Cuse is cool" "Listening to coach Marrone #cuse" and "Last night was mad real." Unfortunately, sounds like the good people at Hancock didn't help matters.
"I freaking hate syracuse Airport. Thry made me miss my flight!! Im so tight right now."

"I hate these freaking airport people right now.."
The decision Ebo has in front of him is a big one. He tweeted, "I need to sit down and just think about things." If Ogundeko does indeed choose Clemson or Florida, could Sunshine State DE Malik Brown be his replacement? He tweeted "Palm Beach needs a Dinosaur BBQ" (power move by SU bringing him there) and posted an Instagram "Chilling with Coach Marrone." He has offers from Illinois, Purdue and Mississippi State. Reports are that he had a terrific weekend in Syracuse, and that he's leaning Orange.
The other big name still out there for SU is speed demon Laray Smith. The Brooklyn running back has offers from Ole Miss, Illinois and Tennessee. But Smith was in the house at MetLife when the Orange battled with USC, and has a crew of his closest BKLN boys already on the Hill. Wayne Morgan, Gus Edwards and Alvin Cornelius are forming a tight bond with other Big Apple kids, and it's drawing some of the city's best talent north.
SU basketball did its part by dismantling Monmouth in a game the recruits attended. The football team is going through practices for the Pinstripe Bowl. Now let's see if the Orange can continue to reap the rewards of two momentous weekends on the Hill.
Posted: D.A.
(adsbygoogle = window.adsbygoogle || []).push({});