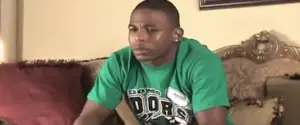 Greg Adkins is at again. Just when you thought his recruiting talent had limits, he breaks new ground.
"You guys got a great staff out there. A great university and Coach Adkins. He has a ton of respect from us. He's a classy recruiter. Honest and straight forward. It's pleasure working with people like Coach Adkins."
These are the words of Los Angeles Harbor Head Coach Brett Peabody. Adkins has recently been in touch with the Southern California junior college. The Orange recruiting coordinator managed to schedule three LA Harbor players to visit Syracuse this weekend, John Miller, Joe Walker, and Cleshawn Page (pictured). Peabody goes way back with Adkins, and tells The Fizz he's impressed with his style:
"Personally, I've known Coach Adkins since he was back at Tennessee. And those guys there at Tennessee, they went through remarkable runs, national titles, those sorts of things. He's a phenomenal recruiter. He knows where players are. He knows where to identify them. I think he's built some great connections with the Southern California area."
SU already has the New York City pipeline (ask Juco Wayne Williams), and the Peach State and Sunshine State connections, but now Adkins is creating cross-country relations. There are already seven current Orange who are from the state of California. Adkins is looking to build on that with the LA Harbor trifecta. Peabody gave the coach's breakdown to The Fizz of his trio:
"We participated in our fourth consecutive bowl game this year. All three of those guys were obviously integral parts of that success. John participated in back-to-back bowl games for us, as well as Cleshawn. This is Joe's first year with us as a qualifier. All of those guys were all-conference guys and are major impact players."
Here's LA Harbor'Äôs SU recruits.
John Miller      6'4" 322 lbs.   Offensive Line
Miller is the most recently offered Seahawk. Adkins must see something for his unit in this lineman. Miller has just two offers (SU and Memphis), but has interest from Oregon and Washington State.
Peabody says:
"Syracuse is really excited about him. Coach Adkins really likes his versatility, the fact he can play both center and guard. John's also one of the bigger centers out there and one of the most physical ones."
Peabody feels Miller will be gaining more recognition over time.
"Nevada has been recruiting him and Memphis offered him today. The more people find out he's a mid-year transfer, the more his interest really starts to skyrocket. He's very excited about Syracuse. The opportunity it provides. He's been impressed with Coach Adkins. The education, the conference there. Syracuse is a pretty special place."
Joe Walker      6'3" 230 lbs.   Linebacker
Walker is the most highly sought of the three. He fields three offers from Syracuse, Duke, and Texas A&M. After his Syracuse visit this week, he'll take a trip up to Oregon as well. He made his way out east to see the Blue Devils at the beginning of November. Last week, he visited the Aggies, Despite the heavy-traffic from top programs in Eugene and College Station, Peabody still thinks Syracuse has a shot at Walker:
"I think Walker might be the toughest one, but you never know. I mean the kid's from a community where education has great value put on it. I know his family is very excited about the increasing interest from Syracuse."
The soft-spoken Walker gave The Fizz a breakdown of his past season and his understanding of the Orange:
'ÄúIt'Äôs a little stressful, but it'Äôs exciting. I feel like I had a good season. I made over a 100 tackles. I think I am a smart player and make plays. Coach Adkins has been recruiting me the most. I'Äôve heard about their history and former players like Jim Brown."

Walker recorded over 100 tackles while recovering a fumble and nabbing one interception this season.
Cleshawn Page      5'10" 190 lbs.   Cornerback
Peabody says Page is "one of the premier corners in the country." The mid-year transfer's offer sheet includes Syracuse, Louisiana Tech, Hawaii, and USF. The interest extends to at least half of the Sun Belt conference, as well as Utah State and South Alabama. After his SU visit Page has a scheduled visit for next weekend with Hawaii. The defensive back recorded 44 tackles on the year and forced a fumble.

Syracuse bringing in three interested students from the same community college in SoCal shows how the program is making great strides. Peabody gave a huge thumbs up to the Juco success at Syracuse. He brought up the name of a former LA Harbor Seahawk who's doing big things.
"It really is the best. The Juco kids have had really good success at Syracuse. Deon Goggins was in our program for awhile before he went down Cerritos. These kids are graduating from Syracuse. They're doing good things and taking care of the players out there. We're impressed."
When The Fizz mentioned Goggins to Walker, he said, "Oh yeah, Coach Adkins was telling me about the California guys." Goggins had 15 tackles, three sacks, and one forced a fumble back in 2008 with the Seahawks. The LA connection continues.
The Fizz asked Peabody how crucial this year's SU finish was for prospective recruits. With¬†rumors of reorganizing the coaching staff¬†and a 2-4 start,¬†the 7-5 finish¬†and¬†bowl eligibility¬†completely changed this year'Äôs landscape. Peabody was aware of Marrone'Äôs resiliency:
"I know this. We really enjoy watching their offense, I know that much. Syracuse plays a fun brand of football and obviously what he's done there means he is obviously committed and the turnaround has been very impressive."
But looking to the future, what's the likelihood Syracuse lands at least one of LA Harbor's stars? Peabody praised how SU separates itself from other programs:
"I think you have a really good chance at all three, I really do. The fact of the matter is they're building to play in the ACC and that education. There's not much out there that's better than that. As a kid, I don't know how much more you could ask for. So hopefully you see a few there."
Even with the Orange waiting for its bowl game, it's still going to be a jam-packed next couple of weeks for Syracuse football. The three LA athletes are to arrive in Syracuse late Thursday night and attend the team's practice over the weekend. And even better, next week SU welcomes a handful of 2013 commits in Zach Allen, Augustus Edwards, Isaiah Johnson, and potential additions to the group in Laray Smith and Ebenezer Ogundeko. Buckle up Orange Nation. Winter's approaching, but we have ourselves a hectic recruiting heat wave on its way.
Posted: Brendan Glasheen
(adsbygoogle = window.adsbygoogle || []).push({});