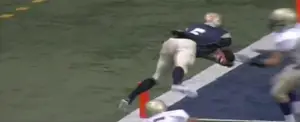 With another ugly weekend for Syracuse hoops, Naesean 'ÄúNaes'Äù Howard'Äôs commitment to the Orange was a bright spot. Scott Shafer is ahead of last year's pace. Howard'Äôs verbal is the first for SU in the 2014 class, a feat the Orange did not achieve last year until May.
Howard is a RD/DB from West Genesee High School in nearby Camillus, NY. Syracuse and Buffalo are the only two schools to offer Howard thus far, but he has made it clear he wants to play in the Dome where he had some big games before.
Although he is recruited as a running back, Howard has played a fair amount of safety and cornerback. There is a good possibility the staff could test Howard'Äôs ability at both positions next year to see where Howard best matches up. Nas told Syracuse.com 'ÄúIf I had a choice, I would want to play defense. When you're a running back, people are aiming to hit you, but on defense you're aiming at other people. I love contact."
Many see Howard as an under the radar talent, something Shafer'Äôs staff can be flexible with while the next identity of Orange football takes shape. Although SU has Jerome Smith and PTG handling the bulk of the running game for next season, there will at some point be a void at the¬†running back¬†position, since¬†Syracuse did not pick up a commitment from one in this year's class. Orange Nation is also looking forward to seeing young George Morris suiting up.
Howard stands at 5'11'' and 185 lbs. and is quick in getting out of traffic. Although Howard does not have blazing speed, he does move well when there are bodies around him, fighting for the extra yards. From Howard's perspective, he is getting a big opportunity by getting an offer to SU. Although some think Howard is under the radar, others believe he received an offer largely because he is a local product.
But Howard boasts his own credibility, and SU just might be one of the first in on him because he's in the backyard. He rushed for 1193 yards with 19 TDs in only 7 games played during last season.
Howard's commitment is a good start to a crucial class for Shafer. The 2014 recruits will be Shafer's first full class since taking over. The Orange has stressed the importance of keeping the local talent in state and this commitment is a step in that direction.
Posted: Zephan Mayell
(adsbygoogle = window.adsbygoogle || []).push({});