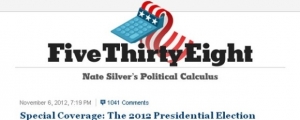 Nate Silver has made his career predicting the odds (with great success) of presidential elections. He pens the highly regarded political blog Five Thirty Eight for the New York Times, and has also applied his stats methods to sports. Monday, Silver took aim at the chances of the remaining 16 teams winning the NCAA title. 
"The 11 teams that the model initially assigned the best chances of winning the tournament were Louisville (a 23.8 percent chance), Indiana (18.4 percent), Florida (13.2 percent), Kansas (7.9 percent), Duke (6.0 percent), Gonzaga (5.6 percent), Ohio State (5.4 percent), Michigan (2.5 percent), Michigan State (2.3 percent), Miami (1.8 percent) and Syracuse (1.8 percent). Only Gonzaga has lost among that group. (Georgetown 'Ä0.9 percent 'Äî and New Mexico 'Äî 0.7 percent 'Äî also endured major upsets based on their seeding lines, but they were teams that statistical methods weren'Äôt sold on to begin with."
Louisville and Florida's odds went up considerably, based on a couple of factors after the opening weekend. Syracuse's chances also increased.
"Our system adjusts its estimate of each team'Äôs strength based on its margin of victory in games so far…¬† The other major factor is what has happened to the opponents that a team is most likely to face: have upsets helped clear out its draw, or instead, is a team running headlong into a series of tough opponents?"
Here's what Silver writes about the Orange and Hoosiers:
Syracuse (up to 4.8 percent from 1.8 percent) Syracuse's 47-point win against Montana on Thursday was the largest ever by a team not seeded No. 1 or No. 2 (beating, as it happened, a record that Virginia Commonwealth had set less than an hour earlier). That is, of course, an impressive accomplishment to a model like ours that weighs margin of victory, so Syracuse's chances of winning the tournament have more than doubled as a result. As with Michigan, this is a case in which late-season performance did not prove all that much: if the Orange are back in the early-season form that saw them start the season 18-1 and beat Louisville, they will make a very tough opponent for Indiana.

Indiana (down to 10.9 percent from 18.4 percent) This is a big decline for Indiana — the model estimates that its chances of winning the national title have dropped by 60 percent. One factor is Indiana's close call on Sunday against Temple, a team that the computer ratings did not regard as very strong. But perhaps more important, the rest of the top seeds in the East Region have won out. The immediate problem is Indiana's matchup Thursday against Syracuse, a team that our formula liked to begin with and which has played very well so far. That game will take place at the Verizon Center in Washington, an arena that Syracuse will find familiar from its Big East matchups against rival Georgetown. Indiana's Round of 8 matchup might actually be easier by comparison, especially if Marquette upsets Miami.
Does SU's blowout of Montana mean it's more likely to play better against IU and then win three more? That's a tough sell for me. The Orange was a far superior team to the Grizz, and took care of business. And to be fair, I was very skeptical of this team heading into the tourney. I figured it would be a close shave in the R64, then a bow out in the R32. But is what transpired a week earlier against a Big Sky team – when Montana couldn't hit a rib if it fell face first into Dinosaur BBQ – really going to affect a matchup against one of the top 3 teams in the country? But does the margin of victory over a Big Sky team dictate what happens now?
What I do believe is that Syracuse is playing more like the one that hit MSG than the one that finished out the regular season hitting the snooze button. Maybe some of that is confidence gained against Seton Hall, Pitt and Georgetown in NYC. Maybe this team is starting to feel it after winning a pair of games in San Jose. But the Orange 2-3 needs to be stout, the rebounding must be outstanding against Zeller and co., MCW cannot turn over the ball, and Triche/Southerland have to get buckets. SU has to do a decent job against Oladipo, and avoid melting down against tight defensive pressure.
If that happens, Syracuse can beat Indiana. But are the odds of that better because of wins over Montana and Cal? Not so sure. What I would agree with is Silver's assessment that Indiana has a 58% chance of winning Thursday, SU a 42%.
Posted: D.A.
(adsbygoogle = window.adsbygoogle || []).push({});