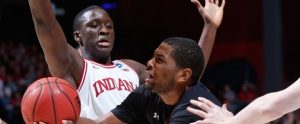 Another Sweet 16 appearance for Jim Boeheim, who has made a career out of getting to the second weekend of the NCAA tourney. Unfortunately, in 17 games in the Sweet 16, Boeheim is just 5-12. But one of those wins came last year. Here's how Syracuse can beat the Hoosiers and climb within one step of the Final Four.
Limit turnovers

Turnovers and lost possessions have been a big reason for many of SU's losses this year. Michael Carter-Williams and Brandon Triche must be efficient tonight. MCW and Triche need to break a tough in your face defense of Victor Oladipo and other Hoosiers. IU is fast and can score in transition. The Hoosiers also have Cody Zeller down low to finish. Syracuse turnovers will result in easy points for Indiana.
Make Indiana force it inside

Indiana is the third best shooting team in the country and shoots 40 percent from three. The Hoosiers have three options for long-range shooting in Oladipo, Christian Watford and Jordan Hulls. These guys know how to shoot over a zone and how to win games by way of the three. Zeller can be taken out of games. If Baye Keita and Rakeem Christmas can be aggressive, they can overpower Zeller. The Orange need to force the guards to test passing inside the zone and simply prevent shooting from the guards. The Indiana defense allowed Khalif Wyatt to break out on offense and drive to the basket for points in the scare against Temple. C.J. Fair will be very important.
Frustrate the Hoosiers
Temple almost upset Indiana by playing a terrific first half and leading by three. The best way to frustrate the Hoosiers is for Syracuse to play well early and get a lead. This starts with Fair. He can be explosive in the first half. He drives to the basket, takes his smooth customary 15-foot jump shot, or even drains a three from the corner. This also includes James Southerland. He has been great since the Big East tournament began and hasn't shown signs of slowing down. Syracuse needs to create open looks from three for Southerland if it wants him to be a big factor – and he can. This isn't only on offense.
The Orange need to also make sure the zone works against the Indiana offense. No open looks for Oladipo. Force turnovers and early foul trouble for Zelle. Try to make Indiana frustrated and angry. Syracuse will also need to limit the fouls. Southerland has been in foul trouble early in the tournament and Indiana was 16-20 from the charity stripe against Temple.
Indiana has also lost twice this season to a very physical Wisconsin team. Being physical is a key to frustrating the Hoosiers because they don't play well against tougher teams. The Orange has beaten physical teams like Pittsburgh, Louisville and Georgetown. Maybe Syracuse learned a thing or two about how to be physical and can apply it tonight.
Posted: Austin Pollack
(adsbygoogle = window.adsbygoogle || []).push({});