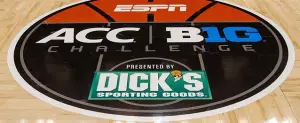 Circle December 3, 2013 on your calendar. While Syracuse also has visits from ACC powerhouses Duke and North Carolina lined up next winter, SU will take on Sweet 16 opponent Indiana in the Big 10/ACC Challenge at the Carrier Dome. The matchup with the Hoosiers adds to a loaded home schedule for the Orange. Tom Crean and company will be heading to the Hill with feelings of redemption after SU's beatdown of Indiana 61-50 in March.
The powers that be nailed this one, the game will be televised on ESPN and garner lots of early season attention. It's the first scheduled game between the two schools not played on a neutral floor. The Orange is 4-1 in five games all-time against the Hoosiers, but the one loss stings most: the 1987 national championship game. From Keith Smart dominating in the title game 26 years ago, to Michael Carter-Williams going off for a career high 24 points against the Hoosier D, SU and IU have put together a memorable photo album.
The Syracuse home schedule right now has the Orange slotted to play four teams in the Top 25: Duke, North Carolina, Notre Dame, and Indiana. If the Villanova series is officially added, the Wildcats could be another strong non-conference foe. SU/IU is only one third of a ridiculously interesting set of games in the the challenge: Michigan will play Duke in a rematch of the '91 title game, while Michigan State will take on UNC in an Izzo-Roy coaching tilt.
Last season, SU's matchup with Arkansas in the SEC/Big East Challenge presented an interesting, tight game, but the IU game will have even more sizzle. Getting thrown into the fire against the nation's best is a win/win for the Orange. It means the departure from the Big East won't leave as big a void with all of these must-see events B) the competition keeps Boeheim's young troops improving throughout the season.
Indiana will be just the 4th nationally ranked non-conference opponent at the Carrier Dome in a decade. Although the Big 10/ACC Challenge is just one game on the regular season schedule, it rewards SU for bringing the program to an elite level. It's only May, but Orange Nation is already getting antsy for a schedule chock-full of terrific matchups.
Posted: Brendan Glasheen
(adsbygoogle = window.adsbygoogle || []).push({});