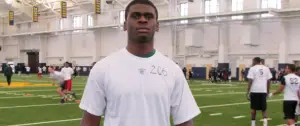 Color me as disappointed Ron Thompson could be switching to defense. The Post-Standard ran a piece saying Sugar Bear is getting a look at defensive end. I realize there are depth issues along the front seven for the Orange. It's nice that Thompson played well on defense back in high school. But the reason he was a 4-star recruit out of high school was for his soft pass catching ability, and his size/speed combination.
He's a matchup nightmare for defensive backs. Who's big enough to bring him down, yet fast enough to stay with him?
In April I wrote about how unfortunate it was he wasn't going to play in the Spring Game. He was returning off hip surgery, so I understand why SU wants to be careful with him. But the matchup problem Thompson presents would be an enormous advantage for this offense.
Look at just a handful of highlights from a football camp he participated in.
His burst off the line separates him from corners. His size allows him to fight through every defensive back for the football. His leaping ability means he can snare a pass at the highest point. His hands are terrific for a big man.
I'm looking at the highlight where he nabs a tight spiral in the end zone with his finger tips and makes it look easy. How is he going to use that talent at defensive end?
One of the most highly touted defensive ends coming to SU recently was Max Beaulieu. He was a washout on the line, so coaches moved him to tight end. He never ended up contributing. How weird is it that a top-tier tight end is now being moved to defensive line?
This switch also makes me wonder if it ever would've happened under the old regime. Tyrone Wheatley worked tirelessly to win a rare 4-star recruit to a program still in the early stages of rebuilding. Doug Marrone was an offensive coach, and Nate Hackett prized the tight end in his passing schemes. Now, defensive-minded Scott Shafer takes over, already worried about his lack of depth on the d-line. Is it possible the new staff just doesn't have the same hopes and patience invested in Sugar Bear?
It's great that Sugar Bear has a good enough attitude to not fight the position change. But if he shifts there permanently, I'll be disappointed we never saw the pass-catching, field-stretching potential of Thompson. I think he can be a star… on the offensive side of the ball.
Posted: D.A.
(adsbygoogle = window.adsbygoogle || []).push({});