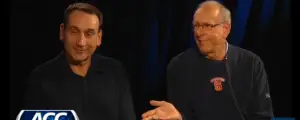 This season is going to be fun in the ACC. Syracuse hoops will play Final Four contender once again with a whole new set of big dogs trying to chase it down. The Orange will have a young team, infused with plenty of incoming talent. And Jim Boeheim will be ragging on the southern dining options at every turn.
In a sit down interview alongside Coach K for ACC Digital, Boeheim got some digs in on the ACC restaurant scene. When K attempts to defend the culinary choices in his conference, Boeheim jumps in and says they surprisingly found a decent meal around Duke.
JB: "We even found one in Durham." 
K: "Actually we have a lot of them in Durham." 
JB: "Well, I wouldn't say a lot."
While Orange Nation is frothing at the mouth to get after the Dookies during the season, it's obvious Boeheim and Coach K have a very close bond. Both are lifers at their respective schools. Both are Hall of Famers. They've truly grown close with their tours of duty with Team USA.
While SU/Duke on the court will be amazing, Boeheim off the floor… just about every road trip this season, might just be even better.
Posted: D.A.
(adsbygoogle = window.adsbygoogle || []).push({});