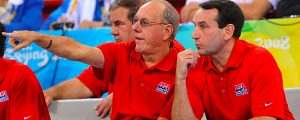 The giant Jim Boeheim heads could go nationwide this winter. ESPN College Gameday will be in Syracuse on February 1st for the game against Duke. The last time ESPN was on the Syracuse campus for College Gameday was February 27, 2010 against Villanova. On that day, 34,616 packed the Dome. That record crowd was broken last season for the final Big East matchup against Georgetown.
What a day this should be for the Orange. Now that SU has left the Big East, it will have to find a new conference rival. Duke is a favorite when you put together the reasons why. Here's why this will be a special day on the Hill.
Jim Boeheim and Coach K are both legendary coaches. They have Hall of Fame plaques, and are perennial Final Four contenders. Duke always puts out star power, like Seth Curry, Mason Plumlee, Quinn Cook and Rasheed Sulaimon last season. Expectations are high in Durham, and the Dookies are considered in the hunt for a national championship.
For Boeheim, he has brought in some of his best talent over the last decade. The Orange has consistently put together deep tourney teams since Melo left. The program is now landing McDonald's All-Americas and some of the best talent in the country.
These two Hall of Fame coaches on the sideline, peers who work together on the US national team, will definitely be memorable.
Syracuse and Duke have two of the most intimidating home courts in all the country. The Dome packed 35,012 last year against Georgetown, and will certainly top that with the center court attraction. Cameron Indoor is one of the most deafening places in the nation, and Duke fans travel well (and are dispersed across the country). Expect a few Duke fans to make the trek, and for Orange Nation to bring the noise.
Syracuse and Duke are two of the best programs, year after year, for the past quarter century. These two teams don't have much history against one another (all-time series is 2-2), but this will be the first matchup of what will likely be one of the best annual rivalries in college sports.
Duke has four national championships, with the most recent coming in 2010. The Blue Devils also have 37 NCAA tournament appearances and haven't been left out of the dance since 1995. Mike Krzyzewski has 957 career victories.
The Orange have one national championship, which came obviously in 2003. It has one fewer NCAA tournament appearances (36), but Boeheim has also steered the ship for over thirty years and has 920 wins.
This game is more than just a game. It is two programs with a history of winning, fans who live and breathe for their team and coaches who are two of the best in the country.
Mark your calendars for February 1, 2014: history will be made.
Posted: Austin Pollack
(adsbygoogle = window.adsbygoogle || []).push({});