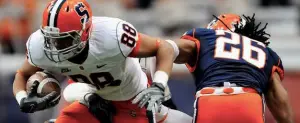 It wasn't until late in the fourth, but Syracuse pulled out a 24-10 win over NC State last week. This was the first win for the Orange in ACC play, and pushed Syracuse back to .500. The ground game provided all of the offense and Jerome Smith continues to be a threat to opposing run defenses. Smith rushed for 140 yards on 19 carries, including a one-yard touchdown run in the first quarter. Terrel Hunt's passing numbers have not been as impressive since the games against Wagner and Tulane, but the in-conference opponents are much tougher than those lesser, non-conference opponents.
Now Syracuse faces a 3-3 Georgia Tech team in Atlanta on Saturday afternoon. The Yellow Jackets are 2-2 in the ACC with losses to No. 14 Miami and Virginia Tech, plus an out-of-conference loss to BYU. Georgia Tech opened the season 3-0, including an opening day 70-0 win over Elon.
The Yellow Jackets will run. They are sixth in the nation on the ground, averaging 290 rushing yards per game. David Sims is their leader. He has six touchdowns on 72 carries for 353 yards. Quarterback Vad Lee is a mobile quarterback, so he is not afraid to run. The Syracuse defense will have to control the running game to have a chance. Lee has rushed for 282 yards and has scored four touchdowns so far this season.
This is a big game for Syracuse. Will it be 4-3? Or dip back down below .500 to 3-4? Here are things to watch for on Saturday against Georgia Tech.
1. Will the ground game keep it up? Led by Smith, he and Prince-Tyson Gulley are the two rushing leaders. Smith has scored at least one touchdown in every game thus far, and PTG has been a solid back behind him on the depth chart. He also had a breakout game against NC State. He rushed for 132 yards and scored a touchdown. He averaged just under 15 yards per carry against the Wolfpack, and the duo of backs has been stepping it up when Hunt can't find open receivers or when coverage has been tight. This will be a game of Syracuse running vs. Georgia Tech running. Who will run more? Who will have better drives? Expect the ground game to be busy for Syracuse.
2. The secondary. It did a decent job against NC State as Pete Thomas only threw for 151 yards. Will it keep up? Lee and the Yellow Jackets primarily run and run well. If he decides to throw, the secondary has to be ready to bring down receivers and keep the ball out of their hands. If the secondary can prove to be effective early on in the game, Lee will be forced to run. Syracuse allowed 129 total yards on the ground against NC State and only 156 against a high-powered Clemson offense. The secondary has to be effective and provide good coverage for Syracuse to have a real shot.
3. Does Terrel Hunt get back to his star performances against Wagner and Tulane? Hunt hasn't looked as good against Clemson or NC State than he did against Wagner and Tulane. His offense was putting up 50-plus points against those non-conference opponents. The poor performance against Clemson could have been expected. The Tigers are an all-around great team. They're a national championship contender. NC State, on the other hand, has had its struggles. Hunt was 10-for-20 with 74 passing yards and two interceptions against the Wolfpack. He didn't have any picks through his first three games, including Northwestern, so he may use his legs to avoid passing the ball and throwing it into the hands of the secondary. Keep an eye out to see what adjustments Hunt and the coaching staff make to help him be more effective throwing the ball. He's struggling completing passes and throwing interceptions, as Drew Allen did during the first two games of the season, but the running game has been more effective, as has the defense in keeping the opponent off the scoreboard.
4. Does Hunt find his top receiver? This was something that was speculated all throughout the summer. The number one question was obviously who the quarterback would be. Hunt and Jarrod West connected very well in the spring game and against Wagner (5 receptions, 147 yards, 1 touchdown). Orange Nation hasn't seen much of him since that game against Wagner. If Hunt finds a way to complete his passes, who will be his top receiver? Will West rise above the surface and be the go-to guy? Keep an eye out to see who gets the most receptions and yardage on Saturday.
5. Is there any confidence that carries over from the first ACC win? The first conference win was huge for Syracuse. It took a lot of pressure off after a blowout loss to Clemson, so the Orange got right back up and picked up a win against the Wolfpack. Georgia Tech has had its own struggles this season, sitting at 3-3. NC State was a game for Syracuse to see if it could be a real contender in this conference. Georgia Tech is another one of these games. It could be a confidence-builder for the rest of the season, and for a return home on November 2 against Wake Forest.
Prediction time. Syracuse will be 4-3 after this game. The Orange will get a 27-17 win over the Yellow Jackets. Hunt will be able to find Jarrod West to be one of his major connecting targets, and the running game will continue to be effective.
Posted by: Austin Pollack
(adsbygoogle = window.adsbygoogle || []).push({});