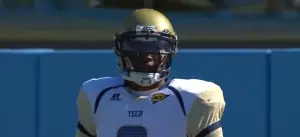 The Yellow Jackets have totaled at least 400 yards of offense in all but one of their games this season. With its trio of dynamic running backs and dual-threat quarterback, Georgia Tech can threaten Syracuse defense. There is one particularly imposing challenge: the run game. The Jackets rush the ball close to 290 yards a game—or over 70% of those 400 yards.
The Orange allows an average of 120 rushing yards per game, but comes off a reassuring performance against NC State on the road. SU's three losses come against a pair of tough Big 10 teams and a high-powered Clemson squad headed by Tajh Boyd. Although not as potent, the Jackets have plenty of weapons to worry opponents. They carry three backs that rush the football at least 5 yards per carry. Take a look at Georgia Tech's production on the ground:
David Sims – 353 yards, 58.8/game
Robert Godhigh – 254 yards, 42.3/game
Zach Laskey – 186 yards, 31/game
Sims, Godhigh and Laskey don't tell the whole story. Seven different Jackets have reached the end zone on the ground this season. It almost doesn't matter what the defense throws at this team, as the Tech offense comes at so many different angles. Sims leads the bunch with six rushing touchdowns on the season. You'd think the ACC's top rushing attack would have a standout runner, but Sims barely makes the top 10 rushers in the conference, which says a lot about Georgia Tech's ground game as whole. 16 touchdowns have been accumulated on the pigskin by the Jackets.
Another weapon we've yet to discuss is G-Tech QB Vad Lee. The 6'1", 215-pound dual threat has had a down year in comparison to last, but still scares defenses with his legs. Lee's compiled 242 rushing yards this season, averaging just short of 50 per game. He's met the end zone four times on the run. Lee is up over 1,000 total yards on the season so he continues to provide versatility and uncertainty to each game.
Syracuse easily faces the top rushing attack in the conference by the numbers, but just from a personnel standpoint. G-Tech can literally come at you from wherever it wants, whenever it wants to. Lee's passing game is not as polished as last year, as his QB efficiency is down 30 percentage points through six games this year. Orange linebacker Cameron Lynch tells The Fizz that SU prioritizes on defense to get the job done:
'ÄúOur whole mantra as a defense has been stopping the run," Lynch said. "Run first, then pass second. We take pride in that, running to the ball. I think getting a lot of guys to the ball at one time helps. It helps with stopping the run and keeping teams to three yards a carry per game.'Äù
Tech's option offense is very difficult to read and cover. The backs can get to the outside or run it up the gut to beat you. The Orange front seven needs to mirror the performance it had against the Wolf Pack. As with any other dual-threat QB, Lee utilizes his ability to roll-out and throw on the run. He also knows he can scramble to make things happen. Because Tech has so many moving parts, Lynch tells The Fizz it's important to stay locked in:
"Our approach is to just play assignment football. That's what every team should do against any option team. Do your job. Execute and cover your men, do what you have to do to tackle the ball."
SU has to hit the ground running on defense and on offense. Tech has outscored opponents 42 – 7 in the third quarter this season.
What people may also forget is that this game is a battle of the ACC's top rushing attacks: Syracuse sits just shy of the Jackets with 220 yards per game on the ground.
Offensively, look for the Orange to keep up its efficiency in the red zone. Syracuse is 25 – 29 this year inside the 20, a tremendous improvement from last year at this time in the season. Georgia Tech will throw its punches from many different running backs come Saturday, but Syracuse won't go down without swinging. The defense will be ready to play hard-nosed, and, as Lynch puts it, "assignment football."
Posted by: Brendan Glasheen
(adsbygoogle = window.adsbygoogle || []).push({});