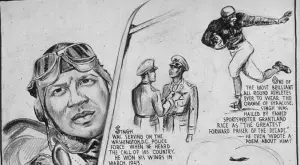 Syracuse travels to Maryland this Saturday to play the Terrapins for the first time since 1994. The Orange is looking to inch closer to six wins, while the Terps are only a win away from bowling in December. However, this game will mean more to some than just bowl implications.
For those who do not know the story, Wilmeth Sidat-Singh was a football and basketball player for the Syracuse Orangemen back in the 1930s. Nicknamed the "Syracuse Walking Dream," he anchored the football team to a 3-0 start in 1937, including a big win against Cornell. However, once the team arrived in Maryland the following week, the Terps did not allow Sidat-Singh to play because of a news report claiming he was African-American instead of Indian like most believed.
During that era, black players could play in the north, but not when they traveled to southern schools. Maryland refused to play against the Orange if Sidat-Singh was to take the field. The school was very adamant with their decision and SU conceded to Maryland's wishes, sitting him for the game and losing 13-0. The following year Sidat-Singh got his revenge inside Archbold Stadium, crushing Maryland 53-0.
Because the NFL did not allow black players in the league, Wilmeth went on to play some professional basketball before deciding to train for World War II. He went to train with the Tuskegee Airmen but died in a plane crash in Lake Huron while fighting to defend the same country who would not let him play a down in Maryland. He is looked at as a pioneer and a hero. SU acknowledged his triumphs by retiring and putting his basketball jersey into the rafters in 2005.
This Saturday, the University of Maryland will have a ceremony on the field of Byrd Stadium to honor Sidat-Singh and show a video on the screen of his accomplishments including the disappointing demand of Sidat-Singh's benching. Members of Wilmeth's family will be in attendance as the university has set aside a suite for them.
Some say the reason UMD is now deciding to admit what they did in 1937 was wrong is because Kumea Shorter-Gooden, the chief diversity officer at Maryland, is a member of Sidat-Singh's extended family. Whatever the reasons may be, it is time people were made aware of this story.
It took 76 years, but finally Maryland is trying to make amends for their actions on that sad day in Baltimore.
Posted by: Zephan Mayell
(adsbygoogle = window.adsbygoogle || []).push({});