Follow The Fizz on Twitter for the latest SU basketball news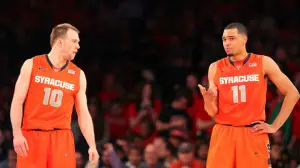 It was scary for a minute, but Syracuse kept its undefeated record with a 69-59 win over BC at Conte Forum on Monday night.
The nerves lingered well into the second half. Boston College's Lonnie Jackson hit a three 2:08 into the second half to give the Eagles the lead. BC held a lead until 8:07 left in the half when Jerami Grant's layup put the Orange in the lead and it never looked back. 
BC entered the game 5-11 and 1-2 in the ACC, clearly "lesser" competition.¬†When a team is on the road facing an opponent that is making the big shots and hitting threes, there'Äôs pressure.
Monday's game was a major test to see how the young and inexperienced duo of Tyler Ennis and Trevor Cooney could handle the pressure and carry the team to victory.
Cooney, who had 21 points, said this game wasn't safe until the end:
"Oh, there definitely was [an uh-oh moment]. Being down to a team like Boston College who is making shots, who is playing good defense, I mean being down to anyone especially on the road is tough."
Cooney handled the pressure differently than how maybe one would expect him to. The three-point catch-and-shoot is his thing—that's why he averages almost 50 percent from three-point land. Rather than taking the long-ranged risk, he drove to the basket for layups and closer shots that had a higher likelihood of helping his team.
"It's all about being aggressive. I have to look to do that more often."
He did just that. He had a season-high four rebounds and only took five shots from three. He made two of those five, but went on to do more than just shoot.
ACC play is tough, especially when Syracuse has to play other ranked teams like Pittsburgh and Duke. Although Syracuse is ranked higher than both, it's still competition, especially if the Orange almost lost to a struggling team like BC. This game was a learning experience for Ennis and Cooney to see how they handle the ACC pressure.
Ennis kept in control. He hit big jumpers and drove to the basket when he needed to. As he has done for the majority of the season, he did not look like a freshman point guard in one of the most competitive conferences in the country.
He scored 12 points and had five assists and six steals. Even more, he got the bucket when Syracuse needed it. He never looked alarmed or panicked, which is big for the Orange in future games.
Syracuse looks to keep its undefeated record on Saturday when it welcomes No. 22 Pittsburgh to the Carrier Dome.
Posted by: Austin Pollack
(adsbygoogle = window.adsbygoogle || []).push({});