Follow the Fizz on Twitter for the latest SU football news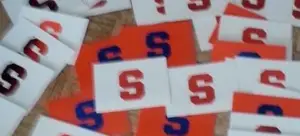 Syracuse football recruiting coordinator Eric White told Syracuse.com just about a year ago now how he felt about college programs sending recruits several handwritten letters:
"That stuff is absurd. I think it's too much. It's a fine line. Blowing up a kids' mailbox with 115 letters a day? I don't know. I think our staff is on board that it's a fine line. We want to stay relevant but we don't want to bombard a kid with 120 mailings in a day."
So 64 mailings are okay? White and SU flooded the mailboxes of two, Class of 2015 recruits this past weekend. Mohammad Barry, a 3-star defensive specialist from Loganville, GA, and Qaadir Sheppard, a Bronx outside linebacker we've discussed here at The Fizz, were both bombarded with Orange love.
Just got this in the mail all Handwritten!!!!ÓÑáÓÑáÓÑáÓÑáÓÑáÓÑáÓêßÓêßÓêß #Cuse pic.twitter.com/Bd5rGZMKlx

— Qaadir Sheppard (@SuperButtahMan) June 1, 2014
Mohamad Barry posted his excitement to Twitter as well.
No question this duo's respect for Syracuse skyrocketed. I'm not trying to rip White and company, but all of a sudden now SU thinks it's okay to use one of football recruiting's most persuasive tools? Sheppard told The Fizz last night he was totally thrown off by this:
"They made me feel very wanted and excited. I really wasn't expecting this."
64 letters are just a little more than half of 115 letters and it's still a lot not matter what way the program tries to put it. At least from my vantage point, any team can go bombard a single player with handwritten letters. Of course they stand out more than printed ones since significant time was probably taken to write each note.
Alabama'Äôs Nick Saban is a victim of this ploy¬†when he sent a recruit 105 handwritten letters in a single day. That was back in 2012 when Doug Marrone was at the helm. To backtrack even more recently, Kentucky's Mark Stoops chased quarterback Drew Barker last summer and sent out 115 pieces of mail.
The Dougie wasn't too crazy about Saban's strategy. Marrone's way of countering mass mailings was offering scholarships early on in a recruit's process. Syracuse primarily attempted to recruit the northeast, and target attainable players outside the Tri-State area. In Marrone's tenure, the Orange may have been trying to lure the biggest names, no matter where they reside, by offering as early as possible.
Players in most recent memory who were offered early on are class of 2014 QB AJ Long (SU offered second to UCLA) and RB Ervin Philips (SU was first).
Let'Äôs bring in Scott Shafer, the head man who coached under Marrone at defensive coordinator. As genuine and personal of a guy Shafer is, has he too caved into what some call recruiting 'Äútrickery?" He has every right to do things his way. Shafer has brought SU a bowl win and¬†with OC George McDonald under his wing, Syracuse has dominated areas geographically including the best of the best in the south and midwest.
For White to be on a record last May that sending out 100+ letters to a recruit is "absurd," then a year later it's publicly known a boatload of cards were sent to two prospects seems like the tides have shifted. Again, I understand 64 is not 115. Maybe each really had its own personal touch, but letter-bombing was never SU's style or approach. Thankfully Shafer's hardnosed rants seems legitimate. He should not go away from that, nor should Syracuse stop offering players it really wants as opposed to hoping good penmanship bails it out. Doesn't seem right.
Posted by: Brendan Glasheen
(adsbygoogle = window.adsbygoogle || []).push({});