Follow the Fizz on Twitter for the latest SU football news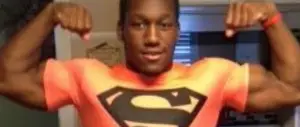 Everything about Syracuse University wowed Shyheim "Shy" Cullen and his family during his visit to SU football camp over the weekend. Said Cullen:
"I really wasn't expecting to commit right away, but once I got there, I saw the campus, met all of the coaching staff, I just knew it was the right fit. The facilities look amazing. My parents loved it. I couldn't wait to check them out."
The 6'1", 210-pound, big-frame linebacker pledged Orange this past Saturday after participating in the June 21 minicamp. Reports up On the Hill said Cullen was a "freak" due to his explosiveness and reads on snaps to make tackles. His top school reacted positively.
The Lowell, Massachusetts native tells The Fizz Syracuse made the right move to offer him. Many SU football recruiting outlets have indicated truths to Cullen's poor academic repertoire, which worried college programs to go ahead and offer him. Simply put, Cullen plans to not waste this opportunity: 
"It feels great knowing this school really wants me and I can't wait to show them what I have. It had a lot to do with it (SU offering first). A team that believes me, a team that trusted me. They won't regret their decision."
The Class of 2015's 14th commit praised Scott Shafer for his desire to see Cullen commit. Of Lowell HS, the newest SU pledge Cullen didn't even give much thought to consider Temple, UMass or Boston College. This is another case of Shafer and company offering a recruit first and it playing out in the long haul.
Cullen says he's also connected seamlessly with linebackers coach Clark Lea:
"It's great. We connect on a lot of things. He is up front with you about things you need to improve on. 100 percent, I love the guy."
We've seen this before. Last year's recruiting class included a quartet of linebackers like Zaire Franklin and Parris Bennett, who loved talking with Lea on the phone prior to decision time. Lea has been a dark-horse candidate to swipe away George McDonald's honor of SU's best recruiter. Although he probably won't top McDonald, give credit where credit is due. Since Shafer's arrival on campus, Lea has been all over linebackers throughout the Northeast and Midwest. 
Cullen said Shafer's desire to land him made him feel really good. It has to be a tough scenario for an academically struggling student athlete to walk into camp looking this whole staff in the eyes. It comes down to how much Cullen wants it. A D1 program in the ACC  like SU has opened doors for this young man.
On the field, Shy has some notes jotted down on what he can do to improve this offseason on both his in-game and off-field habits: 
"I definitely want to get myself to be more explosive, faster and overall just a better team leader and I have those leadership abilities but I want to improve those as much as I can."
And what separates him from the rest of this class?
"My work ethic, every single day. Day in and day out, I will be working hard every day."
He's ready for his shot. Come February, Cullen hopefully signs on, with some young men along his side as well as coaches and family to get over the hump.
Posted by: Brendan Glasheen
(adsbygoogle = window.adsbygoogle || []).push({});