Follow the Fizz on Twitter for the latest SU football news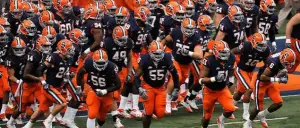 Syracuse's current 25-man 2015 recruiting class could look a little different in six months time when National Signing Day rolls around. The Orange has already had one recruit decommit in Florida cornerback DaVante Davis. He may end up being the only player to do so, but another decommitment is certainly possible.
It is up to the Scott Shafer and the rest of the Syracuse coaches to keep the commits focused solely on the Orange.
Davis decommitted because after he accepted Syracuse's offer he began to receive football scholarships from historic programs that he had to consider, such as Alabama, Auburn, Florida and Florida State. It is unlikely that another player that has already committed to Syracuse will receive offers similar to Davis', but other programs will definitely try to woo particular SU commits away.
Ohio outside linebacker Troy Henderson Jr. committed to Syracuse earlier this week. He was originally supposed to choose his school on the 4th of July, but a late offer from the University of Nebraska changed all of that. Henderson Jr. still ended up picking Syracuse, but he did so without visiting Nebraska's campus. Nothing is stopping the linebacker from visiting Lincoln before he signs his letter of intent in February.
Another 2015 linebacker commit, Doyle "Biggie" Grimes, is yet to even visit Syracuse. That does not automatically make him a decommitment candidate, but it is tough to be 100 percent on board with a program before actually checking it out in person.
Luckily for SU fans, for every decommitment worry there is an Andrejas Duerig. In a June interview with the Fizz Duerig said that he plans on changing phone numbers to prevent other programs from contacting him.
Yes, Duerig is that certain about Syracuse football.
With a top thirty recruiting class, it will take a lot for a 2015 commit to opt out of four years of Syracuse football.
Posted by: Connor Morrissette
(adsbygoogle = window.adsbygoogle || []).push({});