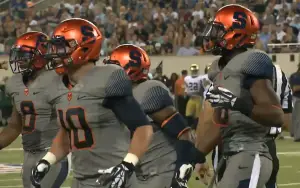 Missed opportunity for Syracuse. Here's 5 reasons the program should be upset about the loss Saturday night:
5) Saturday night didn't feel anything like a home game. It was supposedly an Orange home date, but outside of the end zones being painted "Syracuse" and the MetLife neon being orange, it might as well been on an air craft carrier in the Pacific. The crowd was probably 75/25 Notre Dame fans (understandably). The giant 80,000 seat stadium created too huge a space for the SU band to be heard or felt. The SU student section was sparse (understandably). MetLife in general is a stale, antiseptic place that feels more like a Sam's Club than a football stadium. Sitting in the building Saturday night felt nothing like an SU (or college) atmosphere.
4) Third-down futility. The Orange were a miserable 3-for-15 on third downs. How can you possibly beat a good team like that? Combine that with 10 penalties, and the Orange offense took wind out of its own sails.
3) Syracuse didn't play it's best game. The Irish defense is very good, but there's no reason SU should've been so scattershot offensively. The first 5 drives ended in punts for the Orange, and three of those were three-and-outs. Even worse, the longest drive of those first five managed just five plays. This was a chance to be an eye-opener to the nation. Syracuse failed by playing mediocre football.
2) Scott Shafer can't beat ranked teams. The loss to Notre Dame made it 0-4 in the last two seasons playing opponents in the top 25. Losses last year to #19 Northwestern, #2 FSU, #3 Clemson, and now #8 Notre Dame means the Orange has been outscored 187-59 against the top 25 under Shafer. The last win over a ranked team was 11/10/12 when the Orange beat #11 Louisville.
1) 0-3. That's the record of Syracuse in the MetLife series over the past five years. Losses to USC, Penn State and Notre Dame, all on national television. Both Doug Marrone and Scott Shafer talked up the potential these games could have on the program. Wins would be benchmarks for Orange football. In all three tries, SU couldn't seal the deal. Missed opportunities for the program to grab the nation's attention.
Posted: D.A.
(adsbygoogle = window.adsbygoogle || []).push({});