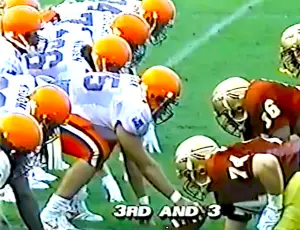 Syracuse lost its last football game exactly 300 days ago, and the Orange can extend that into the Notre Dame game with a win tomorrow. Syracuse has had Maryland's number. The Orange has a five-game winning streak against the Terrapins, and UMD has not defeated Syracuse since 1985. The Orange beat the Terps 20-3 last year in College Park. The last time was 3-0? Coach P was in his first season.
The Central Michigan win made Syracuse look like a completely different team after the near Villanova scare. There are five factors to an Orange win. Here is this week's Fizz Five.
Contain the QB. The Syracuse defense looked abysmal vs. Villanova. Central Michigan was a different story, but CMU is one of the weaker opponents on the schedule. The Terrapins can score. They average just under 40 points scored per game, although much of it is thanks to a 52-7 blowout of James Madison. The defense has to be particularly careful of quarterback C.J. Brown. Like Hunt, he can run. He rushed for three touchdowns against JMU, and rushed for more than 150 yards against West Virginia last week. Syracuse's defense contained Cooper Rush last week and must make sure it does the same to Brown.
More balanced offense. Hunt cannot be the quarterback and the running back. Adonis Ameen-Moore has already rushed for his collegiate career-high (125 yards) entering the Maryland game. The running backs need to do more damage on the ground and not just rely on Hunt. This will make the SU attack more difficult to defend.
Hunt takes some chances through the air. He threw the ball 30 times against CMU, completing 20. The Terps have given up an average of just about 20 points per game and are very good against the ground game. UMD allowed West Virginia quarterback Clint Trickett to throw for 511 yards last week. SU should take some shots downfield.
Be the three.¬†Ryan Norton has made all eight of his PAT'Äôs, but cannot seem to make the long field goal. Norton has missed both of his field goal attempts more than 40 yards. As SU heads toward conference play, there must be trust in the special teams. Norton's leg could be the difference between wins and losses.
Make history. SU is looking to start 3-0 for the first time since 1991 under Paul Pasqualoni. That year Syracuse started 4-0 before a trip to Tallahassee (pictured), and finished the season 10-2 with a win over Ohio State in the Hall of Fame Bowl. SU at 3-0 is a great way to start the season heading into a tough game against Notre Dame. It would also be enjoyable to knock off Randy Edsall one last time before the Terps start their Big 10 tenure.
The Fizz has live coverage of the game against Maryland. Follow us on Twitter @OrangeFizz for in-game updates, and keep an eye on orangefizz.net for postgame coverage.
Posted: Austin Pollack
(adsbygoogle = window.adsbygoogle || []).push({});