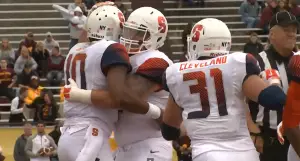 Syracuse's coaching staff was under fire following the opening night near-disaster against Villanova. But Terrel Hunt highlighted a reassuring victory for the Orange on Saturday. SU coasted 40-3 over Central Michigan, in part to the starting quarterback's return to the lineup. The Syracuse offense lit up CMU's defense, while Cooper Rush looked frightened in the pocket on the other side.
The Chippewas struggled to get anything going on both sides of the ball. Give Scott Shafer credit for motivating this group during the two-week layoff. Shafer constantly mentioned how he was looking forward to the program's response after the scare vs. Nova. The head man did that and more to earn his place in this week's Fizz Five.
Shafer smartly keeps Thomas Rawls' absence a secret  
The shocking Rawls scratch that came moments before gametime was obviously very helpful for the Orange. The other backs tallied just 34 yards on the ground. Shafer did not even bother telling his team about the former Michigan running back's absence.
"When I heard he wasn't going to play, I didn't want to say anything to the kids because they were really juiced up to try and slow him down. Unfortunately we didn't get an opportunity to play against him."
Shafer wanted SU's level of focus at an all-time high. Shafer conjured up a high school move, as Syracuse stayed in Lansing and then traveled to Mount Pleasant the morning of the game. The squad was fully dressed when it got off the bus, ready to play. It worked. Let's hope he doesn't have to go this far again for motivation.
The Syracuse D threw the first punches as promised
Durrell Eskridge was one of many SU defenders who admitted the Orange took its first game lightly. The defense sacked Rush five times and ignited a flame with two scoring plays. Marqez Hodge scored on a 36-yard fumble recovery for a touchdown and Cam Lynch notched a safety Dyshawn Davis was benched in the 4th quarter against the Wildcats. He responded. Davis and Lynch each had a team high four solo tackles, plus Davis added a forced fumble. Syracuse came out swinging. The D gave SU the lead and it never looked back.
Adonis Ameen-Moore proves his worth
Ameen-Moore rushed for over 100 yards on nine carries to pace the offensive attack. He's been a non-factor in many ways since missing the 2012 Pinstripe Bowl against West Virginia. Categorized as a "Marrone guy," Adonis is out to prove he belongs in this offense. His performance shows Prince-Tyson Gulley does not have to do it all. Ameen-Moore is close physically to Jerome Smith, a bulldozing back that can bleed the clock and break out with a big run. It was also encouraging to see Ervin Phillips contribute out of the backfield. George McDonald is starting to develop his trust across the depth chart.
McDonald opens up the playbook
The Mailman received a lot of criticism for his play-calling against Villanova. Saturday's 464 yards included a plethora of wrinkles. McDonald needs to stick to the ground game foremost. The run sets the tone, and McDonald ability to use all five RBs helps in recruiting. He tells all of his players and recruits that playing time is available for everyone. The offense has been designed so that Hunt can work in tandem with the running game. Balance existed in the pass game, too. Hunt hit eleven different receivers Saturday, including handymen Brisly Estime and Ashton Broyld. If these dynamics continue to improve, the Orange offense could be scary in November.
The SU scoring early was not the key, the team's morale was. Hunt helped leave Nova in the rearview and put away a lesser opponent quickly. Hunt legged out 92 yards, which helped him punch in a career-high three rushing touchdowns. Although he fell short of The Fizz's prediction of 180 yards passing, Hunt scored those three rushing touchdowns consecutively in the 2nd half. He wasn't satisfied with just winning the football game. Hunt wanted to crush CMU's defense. The Orange hopes this momentum carries into this weekend's matchup with Maryland.
Posted: Brendan Glasheen
(adsbygoogle = window.adsbygoogle || []).push({});