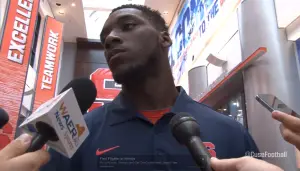 After Syracuse barely knocked off Villanova, the Orange try to make it two straight wins, but hopefully this one in better fashion.
Two major things went wrong in the Villanova game. The defense was far less effective than last year. And Terrel Hunt used his fists (which never serves a point in football). But there's more to it. A program that has won three bowl games in four years should never need double-overtime to beat an FCS team at home.
So what happened? The Villanova game is history. A win is a win, and it's finally time to move on. But the Orange are learning from their mistakes. Central Michigan is not be a simple non-conference victory for Syracuse. CMU enters the game 2-0, coming off a beat down of Big 10 pushover Purdue.
Here's the 5 things Syracuse needs to get back on track and get in the win column this weekend.
1) Terrel Hunt¬†needs to be smarter.¬†Sometimes when the pressure is¬†too much, his decisions¬†suffer.¬†When his emotions¬†boil over, poor decisions are made, and that'Äôs what led to the punch. "I feel like I let the team down. I should've been smarter. I wish I could take it back," Hunt said this week. He also insisted it will never happen again. He¬†has one job in this game, and that'Äôs to come back and be smarter¬†than he was. He needs to read the defense better, and being the dual-threat quarterback he is. If he needs to take off with his feet, he must¬†go for it. He needs to be sure he'Äôs making accurate passes.
2) The defense must get big stops. The D was nowhere close to as good as it was last season. The biggest problem was tackling. Against Central Michigan: finish the job. Make tackles, sacks, and stop the third down conversions. Villanova was 12-for-20 on third down conversions, while Syracuse was just 5-for-14. Villanova had the ball for 15 minutes longer than Syracuse. The defense needs to tighten up and put the ball in Hunt's hands.
3) Establish the running game. It's¬†tough to know what type of Hunt you will see until he takes the field. So the ground game is huge.¬†Prince-Tyson Gulley's effectiveness is key.¬†He had a long run in the Villanova game, but Syracuse'Äôs biggest challenge is lack of a reliable third-down back who can find the lane, break the tackle, and run free. The best man for that role is Adonis Ameen-Moore, but Shafer and his staff do not seem too comfortable putting the ball in his hands on such a crucial spot.
4) Covert third-down conversions. Syracuse needs to have better control of this. Giving too much time of possession to Villanova nearly cost Syracuse the game. This game is on the road, against an opponent that will make you pay on a short field. Purdue learned that the hard way.
5) Put Villanova in the past. Syracuse cannot go into this game thinking about Villanova. Realize what went wrong, and do things differently. Durell Eskridge said, "We thought we were gonna come out and beat up on Villanova. They gave 110%. Our key this week is not to take anyone lightly." A bye week helped this program figure out what happened and make adjustments. There should be no hangover from two weeks ago, no excuses not to be fresh and motivated.
The rest of the non-con schedule is no breeze. A date with Maryland, and then the showdown with a very good Notre Dame team. This is not the week to look past the opponent. A loss to CMU puts serious doubt in this season.
Posted: Austin Pollack
(adsbygoogle = window.adsbygoogle || []).push({});