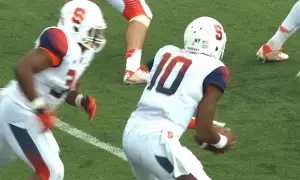 Using a well-balanced attack of power running and quarterback accuracy and power, the Orange surprised many with a dominating effort on the road. Central Michigan had just beaten up Purdue the week earlier, while SU struggled to defeat FCS Villanova. But Terrel Hunt played like the quarterback he insisted he was, the receiving group stepped up big, and the defense pressured the Chippewas all day long.
The elite performance of Hunt was the headline of the day. After a disappointing season debut against Villanova, Hunt played like an efficient leader on the field.  He completed 20-of-30 passes for 175 yards and a touchdown.  He also had 13 carries for 92 yards and added three touchdowns.
Hunt's yards came off of numerous designed quarterback draws and a couple on the goal line.  The offensive line struggled on the goal line in against Villanova, but Saturday the offensive line bullied the the Chips and helped Hunt scamper into the end zone untouched multiple times.
Hunt also distributed the ball beautifully all game long. He spread the ball to 12 different receivers. Ashton Bryold led the way with four catches for 42 yards. Sophomore Brisly Estime was an important part of the attack with three catches. Freshman wide receivers Steve Ishmael and Jamal Custis got involved offensively too. Most importantly, offensive coordinator George McDonald called a good mix of plays. Hunt was able to hit receivers downfield, which made the numerous bubble screens successful.
The Orange's run game was devastating. Adonis Ameen-Moore led the way with nine carries and 106 yards. Freshman Ervin Phillips broke out in this game with 55 yards. He was extremely elusive and wore down the defense on one key drive.
Perhaps the most impressive facet of the game was the stifling front seven. The Syracuse linebackers spent all day in the backfield pressuring quarterback Cooper Rush and the Chippewa running backs. The defense tallied five sacks and eight tackles for a loss. Cameron Lynch led the team with eight tackles and recovered a fumble for a touchdown.
Excitement should be high for the Orange'Äôs next challenge: Maryland in the Dome.¬†The Orange blew away many expectations with their complete performance. Sure,¬†CMU¬†was missing its star wide receiver and starting running back. But¬†this¬†gives SU¬†confidence after a frustrating start to the season against 'Nova.
Posted: Jason Weingold
(adsbygoogle = window.adsbygoogle || []).push({});