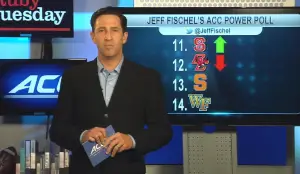 Despite winning its first game, Syracuse¬†has been¬†ranked second to last in theACC.com'Äôs power poll (the league's official website) by Jeff Fischel. While it is only one analyst'Äôs opinion, there's not much more respect coming from other areas around the conference.
Was the Orange actually unimpressive enough vs. Nova to be ranked below Boston College and NC State? In other power polls, Syracuse has been ranked 11th on SBNation, and 12th by ESPN and Yahoo.
Wake Forest is the only team ranked behind the Orange in the power poll, dead last in the conference. Syracuse doesn't have to worry about what the media thinks. Instead it needs to worry about that next team on the schedule. Saturday will be a much stiffer test than most non-BCS teams, on the road at Central Michigan, a squad that just pounded Purdue.
The numbers don't lie. In the ACC, the Orange have the second least yards-per-game average at 320 (while only playing one game), ahead of only Wake Forest. Syracuse tallied only 21 first downs in the opener, the fourth-lowest average in the conference. Every other team in the conference has played two games.
Defensively, the Orange are giving up the third-most points per game. It also surrendered the fourth-most yards and is one of only three teams without an interception. While these stats are highly variable because of the small sample size, the competition is not getting easier. And to struggle in two OTs to beat an FCS team was an eye-opener for the entire country.
There's room for the Orange to climb the respect chart in the ACC. This weekend, Boston College has to host USC, and NC State plays South Florida. If Syracuse can manage a win, it could pass these teams in the poll; but more importantly prove to themselves Week 1 was a fluke.
theACC.com Power Poll Rankings:
1) FSU
2) VT
3) UofL
4) Clemson
5) Duke
6) Pitt
7) Miami
8) UVA
9) GT
10) UNC
11) NC State
12) BC
13) Syracuse
14) Wake
Where would you rank the Orange heading into this weekend?
Posted: Jason Weingold
(adsbygoogle = window.adsbygoogle || []).push({});